Professor Fred D Sack from University of British Columbia, Canada and Professor LE Jie from Institute of Botany, Chinese Academy of Sciences were invited to visit Kunming Institute of Botany, CAS on April 24, 2012, and made the academic reports entitled "Gravity sensing in plants" and "Plant cuticle development and regulatory pathways", respectively.
Professor Fred D Sack explained that all the animals and plants on earth have gravitropism. Plants mainly dependon amyloplast (starch grains) to perceive gravity. Amyloplast is a kind of colorless plastids that contains starch granules. The amyloplast, as the balance stone, plays a role in sensing gravity in the root cap columella cells which can sense gravity. Professor Sack used moss as experimental material, making some interesting space weightlessness/microgravity experiments: On Earth, moss spores that take root send out hundreds of tiny filaments known as protonemata. These filaments normally grow in an unruly fashion; they make a messy-looking tangle. But what was moss doing onboard the space shuttle? As if choreographed, the protonemata swirled together in the same direction. They formed a distinctive clockwise spiral like no moss on Earth. When the normal pull of gravity vanishes, this fire moss protonemata cell experienced a region of amyloplast clustering. Finally, he concluded that gravity has been a powerful force shaping life on our planet. It's so pervasive that people don't even recognize its influence. But one trip to space can open your eyes; just take a look at the mysterious spirals of fire moss.
Professor LE Jie reported that the plant cuticle not only has a protective effect against pest, it is also a exchange interface with the substances such as water, air, light and nutrient in the outside world. Professor Le Jie and his colleagues used epidermal of model plants and crops as study system, applying means of molecular and cell biology, to study the epidermal cell development in signal regulation and stomatal cell morphogenesis mechanisms, for exploring new technologies to improve crop water use and carbon assimilation efficiency of crops. At present, their research mainly includes that studying the distribution of epidermal differentiation and regulatory pathways, the morphogenesis of stomatal cells, epidermal development and regulation of the food and energy crops.
More information about Professor Fred D Sack available at http://www.botany.ubc.ca/people/fsack.html.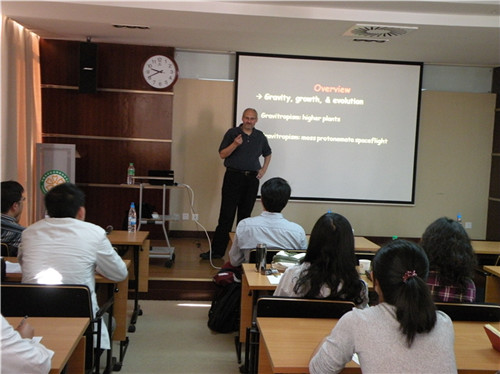 Professor Fred D Sack delivering lecture (Image by KIB)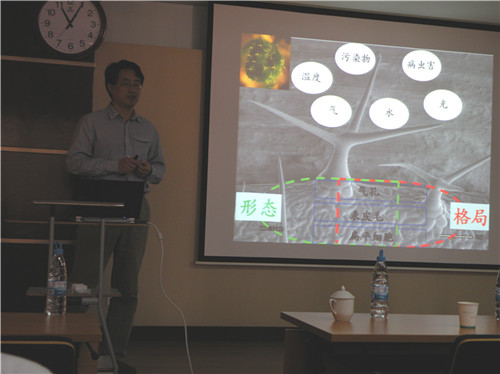 Professor LE Jie delivering lecture (Image by KIB)