On May 19th to 21th, Professor Spencer C.H. Barrett from University of Toronto Canada carried out an academic visit to the Kunming Institute of Botany (KIB) of the Chinese Academy of Sciences (CAS) upon the invitation of KIB Director, Prof. LI Dezhu.
Prof. Barrett made ​​a presentation entitled "The Forms and Function of Flowers: Darwin's Botanical Legacy", which was well received by the staff and students. During his stay with KIB, he also visited the Germplasm Bank of Wild Species and the Kunming Botanical Garden accompanied by the Director and staff. During an academic exchange meeting, Prof. LI Dezhu introduced the research status of evolution and ecology of plant breeding systems and other relevent research fields at KIB. Prof. Barrett put forward many meaningful suggestions and comments on these fields. The two sides also discussed the feasibility of further cooperation in this field.
Prof. Barrett is esteemed plant evolutionary biologist. He has achieved fruitful results in the field of plant reproductive ecology and made important contributions to promote the study of reproductive ecology at the international level. He is the Canadian research chair of evolutionary genetics, president of Canadian Society for Ecology and Evolution, vice president (North America) of Society for the Study of Evolution, an honorary member of American Academy of Arts and Sciences. He has published over 250 articles and edited 4 books on plant reproductive biology. Currently, he serves as members of editorial boards for Trends in Ecology & Evolution, New Phytologist, International Journal of Plant Sciences, Evolutionary Applications etc. In the past several years, he was involved in four symposia on plant reproductive ecology at Beijing, Wuhan, Xishuangbanna and Urumqi, respectively. He has made ​​considerable contributions to promote the development of plant reproductive ecology and to train young scholars in China.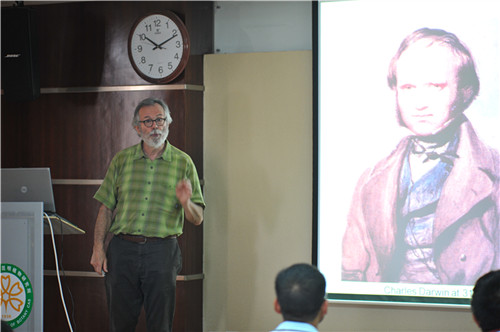 Prof. Spencer Barrett delivering lecture (Image by KIB).