On May 14 2006, Chinese President Hu Jintao, also general secretary of the Communist Party of China Central Committee and Chairman of the Central Military Commission visited the CAS Kunming Institute of Botany (KIB) to inspect the scientific research and extended his greetings to the researchers.
  The President listened to a report on the development and achievements of the institute by KIB Director Li Dezhu.
  He also visited the State Key Laboratory of Phytochemistry and Plant Resources in West China located in the institute. After seeing the research highlights exhibition of the lab, Hu was impressed and called for more support for the primary scientific research. He asked about the effect of CAS Knowledge Innovation Program on the development of institute, and the suggestions by the graduate students.
  At the KIB Herbarium, Hu listened to the researchers' working report, and praised them for their dedication of working at the underdeveloped areas to protect the country's resources.
  The President also visited three CAS academicians in the institute and wished them good health. After knowing that Academician Wu Zhengyi would have his 90's birthday in June 2006, the President extended his well-wishing.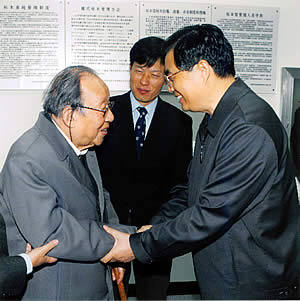 Chinese President Hu Jintao chats with CAS Academician Wu Zhengyi