Davidia involucrata is an endangered species growing in Southwest China.
The seed bank at the Kunming Institute of Botany is aiming to protect China's most rare plants.
Provided for China Daily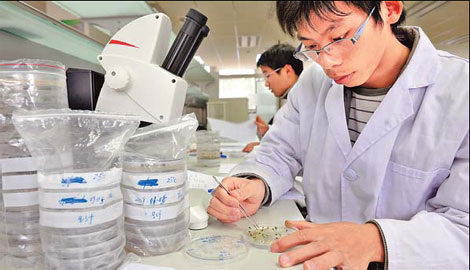 Scientists nurse different plantlife in the laboratory in the germplasm and seed bank in Kunming, Yunnan province,
which is the largest of its kind in Asia, with a capacity of 170,000 samples.
Provided for China Daily
Intrepid scientists protect China's wealth of plant life. Lulu Tsao and Phyllis Zhu report from Kunming.
Trekking into the wild unknown and scaling sheer cliff faces is probably not in the typical botanist's job description.
Then again, Cai Jie is not your typical botanist.
As collection coordinator for China's first national seed bank for wild plants, the 31-year-old spends much of his time searching for endangered plants in some of Southwest China's most challenging terrain.
"You can't just drive along and collect plants growing on the side of the road," said Cai, who has led many field expeditions for the bank at the Kunming Institute of Botany in Yunnan province.
"You have to trek into the wild, through mountains and high altitudes, where it's sunny one minute and spitting hailstones the next.
"In Guizhou province and the Guangxi Zhuang autonomous region, a lot of the terrain is limestone. You hang on with one hand and collect seeds with the other."
Although hazardous, the work done by Cai and his team is vital in efforts to protect China's more than 30,000 species of plant life, half of which cannot be found anywhere else in the world.
"China has as much flowering plant diversity as the rest of the Northern Hemisphere put together," said David Paterson, the institute's honorary senior horticulturalist and former director of the Royal Botanic Garden in Edinburgh, Scotland.
With at least 20 percent of the country's species already seriously threatened, the seed storage facility at the Germplasm Bank of Wild Species in Yunnan safeguards plants from habitat destruction, climate change and invasive alien species, and makes their valuable genetic information available to researchers.
Seed banking protects species outside of their original habitat, an approach known as "ex situ conservation", while "in situ" methods preserve the habitat, such as by marking natural reserves.
Protecting habitats is unquestionably the best approach but not always feasible, said Li Dezhu, director of the institute and germplasm bank.
As a student working toward his master's degree, Li sampled a species of bamboo in Yunnan at its only known recorded location. When he returned years later, though, he could not find it in a landscape transformed by development and agriculture.
While some conservationists view seed banks as a last resort, he believes they are a necessary defense against increasing environmental pressures.
"If one habitat is lost, plants may learn to survive in another habitat," he said, "but with climate change there is double pressure on a species. If we can preserve their seeds, like Noah's Ark, we can eventually reintroduce these species back into the wild."
Banking is also an important solution when plants produce too few seeds to sustain the wild population and when natural reserves cannot be established, perhaps due to cost or conflicts with economic development, added Xue Dayuan, chief scientist for biodiversity conservation at the Nanjing Institute of Environmental Science.
"The seed bank is essential for protecting rare and endangered species," he said. "China needs ex situ conservation because it's vastly better than letting a species vanish completely."
Once at the germplasm bank, seeds are cleaned to remove husks and debris and then dried. Many seeds can theoretically be stored for hundreds to thousands of years at -20 C and are germinated every five to 10 years to test for viability.
Lucky discovery
With an overwhelming number of species to collect, expedition teams (usually of three or four) begin by targeting those that come under the "three Es": endangered, endemic and economically important.
Botanists can spend months in the field to collect at least 10,000 seeds per sample, although the actual number can range from 100 to 100,000. Some plants produce a limited number of seeds and others plants' seeds can be small or mature slowly. (Seeds from ginseng, the popular Chinese herbal medicine, need 16 to 22 months to ripen, making it impossible to collect enough seeds in a single trip.)
"Sometimes the seeds regenerate only after one or two months, so the teams return to the same area several times," said Qin Shaofa, who has worked in the bank's seed management division for two years. "It can really just depend on luck."
It was luck that led Dr Shui Yuming and students from the Kunming institute to stumble upon a group of plants with slender, lantern-like yellow flowers in Yunnan in 2006.
The plant turned out to be paraisometrum mileense, an endemic species first discovered by a French missionary in 1906 and once thought to be extinct. Its seeds have since been stored and the wild population is being monitored.
With the help of 58 universities and institutes across China, the Kunming Institute of Botany has already covered much of China's western regions. Its experts also hold joint exercises to allow collectors to gain experience and knowledge about dealing with different landscapes and plant varieties.
Although seed collection is the foundation for the botanists' work, the purpose of the bank extends beyond simply storing and cataloguing genetic diversity.
"Seed banks are a kind of insurance policy but they're much more than that," said Paul Smith, director of the Millennium Seed Bank at Kew Gardens in England, who added that plants have the potential to solve the world's most pressing challenges.
"What people often don't realize is that you need seeds to develop biofuels, and crops and fruit trees for food security," he said. "And, of course, you need seeds to add more forest."
Climate change poses a particular risk for crops, which may have lost key genetic traits due to domestication and could be more susceptible to temperature fluctuations and frequent natural disasters.
Only research can help unearth the huge potential of wild plants in producing hardier crops, said Gao Lizhi, director of Kunming seed bank's plant germplasm and genomics center.
"The question for most people is whether the plants are useful but actually they're all useful. It just depends on how much we know about them," he said.
Gao, who has collected germplasm from more than 2,000 varieties of rice, emphasized that wild plants' genes can be used to develop breeds of wheat, corn and rice - essential staples in Chinese agriculture - that are resistant to disease, drought and pests. He is also leading a project to sequence the tea tree and oil tea tree genomes, which could impact not only Yunnan's tea production but also the biofuel industry.
"Yunnan is mountainous and not suitable for building traditional factories," he said, "but it can provide many environmentally friendly natural factories."
The shortage of land in China means food production takes priority, leaving little room to plant sources of biofuel, explained Gao. Yet, oil tea trees can help resolve this conflict because they produce high-quality oil for cooking and can grow in areas previously considered unusable for farming.
Based on their oil production, 1.6 hectares of oil tea trees could free up about half a hectare of canola for industrial purposes, such as making biodiesel, he said.
Research on plants has also revealed their importance for modern medicine. A notable example from China is the malaria drug artemisinin, which was first isolated from the leaves of the wormwood plant. The seed bank also stores seeds from the Himalayan yew, whose bark is a source of the anti-cancer drug, Taxol.
However, there is often a long interval between collecting seeds and understanding a plant's properties (even the species' name) due to a shortage of seed biologists, taxonomists and pre-existing data.
Of the 30,000-plus samples at the Kunming seed bank, only about 5,000 species have been identified.
"Usually the seeds come first and the information comes later," said Qin.
Partners for the planet
A lack of information on plant habitats and their conservation status also poses a problem for understanding the global biodiversity picture.
Consequently, the Kunming bank has utilized its international partnerships, particularly with the Millennium Seed Bank, through joint field trips and fund-raising, staff exchanges and annual training.
Seeds are also duplicated and shared among the global network of banks, with the Kunming bank storing seeds for the World Agroforestry Center in Nairobi, capital of Kenya, and the Millennium Seed Bank.
As the largest seed bank for wild plants in Asia (it has a capacity of 170,000 samples), the Yunnan base also aims to take a more prominent position in global conservation, said its director Li Dezhu.
By storing seeds for Southeast Asian countries that do not have banks, like Laos and Cambodia, it will help protect threatened species from across the continent.
"We're planning to safeguard, store and save their species for free because China is a larger country and should play a more important role in the international community," said Li.
Next January, the institute will hold a series of conferences and training workshops with Southeast Asian countries to plan joint botanical surveys and research projects.
Smith at the Millennium Seed Bank, which has global partners from Bulgaria to Madagascar, described China's role as "pivotal."
"The Chinese get it," he said. "They recognize the value of their wildlife diversity, one of the main reasons being that traditional Chinese medicine uses more than 5,000 plant species, and that's a multibillion-dollar industry. This is so important for the battle to persuade people to look after all plants, not just agricultural plants."
For conservationists, the seed bank also reflects China's implementation of global agreements to slow the rate of extinction.
This year is the United Nations' "International Year of Biodiversity" and one of the targets of its Global Strategy on Plant Conservation is to have 60 percent of endangered species in accessible ex situ conservation facilities by the end of 2010, something that has already been achieved in China.
"The seed bank is part of the Chinese government's commitment to the UN Convention on Biological Diversity and one of the ways China is demonstrating its efforts in biodiversity conservation overall," said Huang Hongwen, director of the South China Botanical Garden and a contributor to the global strategy.
Worldwide, seed banking efforts are at risk from uncertain financial and political backing. While some projects in Africa have come to a halt, China is one of the countries maintaining the funding for seed collection.
"In the difficult financial climate, the Chinese government is showing the lead and has provided substantial funding for Kunming to enable collections for the next 10 years," said Smith.
As a national key science project, the germplasm bank received an initial investment of 148 million yuan ($21.8 million) and its operating expenses are reviewed and funded on an annual basis.
As the seed bank moves into full operation, its scientists will continue building capacity, training students and conducting experimental trials to determine the optimal seed storage conditions. Their next major target is to bank 19,000 species by 2020.
One of the challenges for the future, however, is conserving threatened species that are not bankable. In southeast Yunnan, the construction of a regional dam in Malipo county poses a serious risk to a critically endangered tropical tree, the Vatica xishuangbannaensis.
"That was only the third wild population we found but the area will be submerged soon," said botanist Cai. "We're hoping to translocate them but we can't keep the seeds because they don't do well frozen."
In many other places, habitats are being lost faster than the seed collectors can act. Yet Cai remains determined and optimistic, in part because of the seeds themselves.
"If you travel from one place to another, you realize that nature is fantastic and China is big. We can do something for the next generation," he said. "For me, a seed is hope."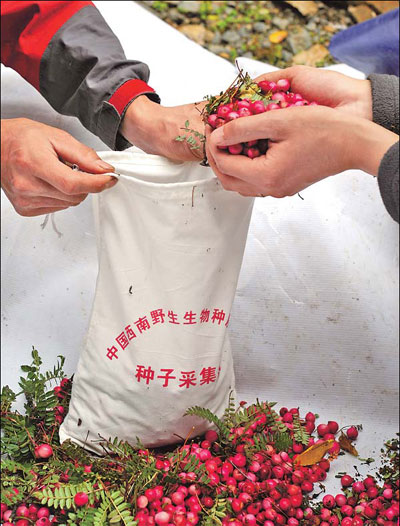 Botanists collect samples during an expedition into the wilds of Yunnan, the Kingdom of Plants. P
rovided for China Daily



The link of original text:http://www.chinadaily.com.cn/cndy/2010-08/24/content_11191799.htm