On 5th September, a 7-person Icelandic delegation led by H.E. Dr. Olafur Ragnar Grimsson, the president of the Republic of Iceland, visited the Germplasm Bank of Wild Species, Southwest China, Kunming Institute of Botany (Germplasm Bank) and the Institute of Tibetan Plateau Research at Kunming, whose office is also located within the Germplasm Bank Building.
Olafur Ragnar Grimsson visited the Germplasm Bank's preservation center, the seeds cleaning-up room, the seeds drying room and the refrigeratory room, getting to know the background of the bank's foundation, its development and achievements as well as the skills and techniques used to preserve wild plants' seeds through Dr. Yang Xiangyun's introduction, the chief executive of the Germplasm Bank. He inquired about the long-term goals of seed conservation and the methods of seed collection, highly remarked the achievements made through the Germplasm Bank and expressed his will to cooperate with China on the conservation of plant resources and biodiversity.
During his visit to the Institute of Tibetan Plateau Research at Kunming, Olafur Ragnar Grimsson met with Prof. Yang Yongping, the institute's deputy director. Yang introduced the projects co-conducted with Kunming Institute of Botany on the origin and evolution research of alpine vegetation, and the research progress on plants' cold and drought resistance gene as well as their adaptation abilities under extreme environments. Olafur Ragnar Grimsson said that he hopes the cooperative relationship between Iceland and China on environment protection would be strengthened in the near future.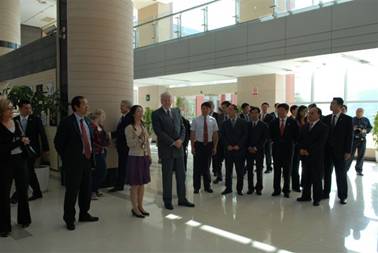 Introducing the Germplasm Bank of Wild Species, Southwest China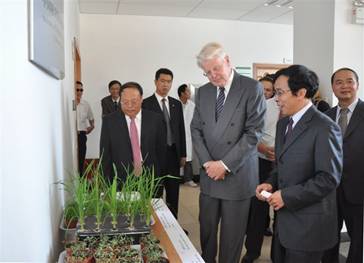 Introducing the Institute of Tibetan Plateau Research at Kunming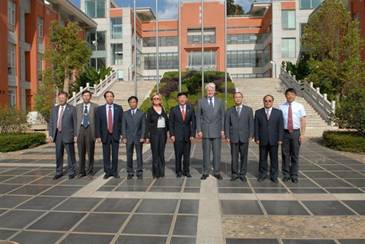 Group Photo taken before the main bulding of the Germplasm Bank of Wild Species, Southwest China