Professor (Prof.) LIU Peigui of Kunming Institute of Botany (KIB), CAS visited The New Zealand Institute for Plant and Food Research Limited (Plant & Food Research) from 1th-10th May, 2011 by invitation from Doctor (Dr.) Philippa Stevens, General Manager of Science of Bioprotection, Plant & Food Research.
Companying by Dr. Alexis Guerin-Laguette, Team leader of Edible Mycorrhizal Fungi and Dr. WANG Yun, he visited the Canterbury Agriculture and Science Centre, Lincoln, Christchurch. Prof. LIU Peigui gave a talk of Edible Mycorrhizal Mushrooms and their cultivation in China, which received good responses from his audiences. Dr. Guerin-Laguette and Dr.WANG gave a brief introduction to the 6th International workshop on edible mycorrhizal mushrooms, Rabat, Morocco April, 2011 and also a talk of A revolution in Tuber melanosporum cultivation: amazing truffières in Charentes, France. Prof. LIU visited field trial sites which Edible Mycorrhizal Fungi Group established and 6 truffle plantations, including Tuber melanosporum, T. uncinatum (=T. aevitivum) and T. borchii. Research on truffles started in 1987 in New Zealand (NZ). The 1st truffle was harvested in 1993. Now around 200 plantations have been established in NZ. More than 10% of plantation established before 1995 has produced truffles. During visiting he was luck to see truffle fruiting in the soils with his own eyes.
Finally, Prof. LIU had a good discussion with Edible Mycorrhizal Mushrooms Group for further cooperative work. Both sides showed strong interesting to strength relationships between Kunming Institute of Botany and Plant & Food Research in this field. This visit was very productive for him and increased his confidence for research and development of truffles industry in SW China.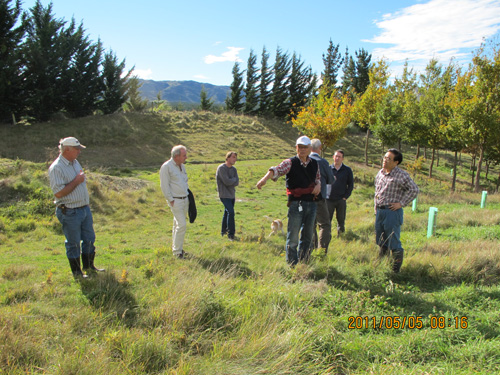 Truffle plntations in New Zealand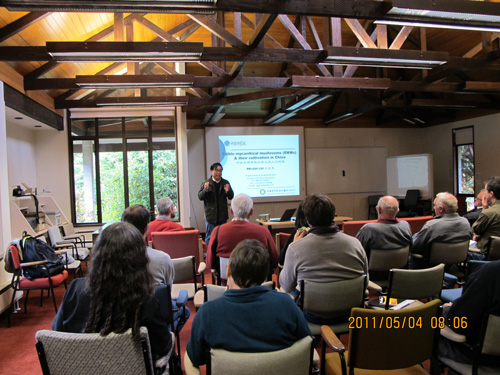 Academic communication of Cultivation techniques for truffle