Xishuangbanna, CHINA, 17 October 2016 – Researchers, experts and local people from across the globe met today to attend the four-day Sustainable Rubber Conference, which aims to explore ways in which rubber growers can secure stable incomes while at the same time protecting the environment and local livelihoods.
Rubber plays an important part in the economies of many Asian countries, but the rapid expansion of rubber cultivation in recent years has brought serious problems: tropical rainforests have been cut down and converted to monoculture plantations, local communities have lost access to their land and resources, and the high prices hoped for by farmers have disappeared.
"Rubber growing ought to provide sustainable incomes without destroying the environment or causing social problems" said Professor Xu Jianchu, said Professor XU Jianchu, Kunming Institute of Botany, Chines Academy of Sciences (KIB/CAS); World Agroforestry Centre (ICRAF) Senior Scientist and Regional Coordinator for East and Central Asia Region. "To make sure this happens, we need to bring together all the key players in the industry, from government agencies to researchers to growers and buyers, and design solutions together" said Mr. SUN Lihui, project coordinator for developing the Investment Guidelines for Sustainable Development of Nature Rubber from the China Chamber of Commerce of Metals Minerals & Chemicals Importers & Exporters (CCCMC).
In order to address environmental and social concerns, tools such as appropriate land use planning and rubber agroforestry systems need to be far more widely adopted by the rubber industry, the challenges facing the industry require concerted action
"Smallholders today account for more than two thirds of rubber plantations in Asia", said Professor CHEN Jin, Director of Xishuangbanna Tropical Botanic Garden, Chinese Academy of Sciences (XTBG/CAS). "With the right policies in place, local governments can help these farmers to grow rubber in an environmentally and socially responsible way".
The conference will hear from a range of experts on subjects such as the ecology of rubber plantations, rubber agroforestry, modelling of climate change impacts, and the socio-economics of rubber cultivation. The conference will also draw up a series of guidelines aimed at helping the rubber industry meet environmental, social and economic goals.
The conference is an initiative of the Sustainable Rubber Platform, which was established as a means
of promoting the development of socially responsible and environmentally friendly practices across the industry.
The Sustainable Rubber Conference runs from 16 to 19 October 2016 at the Xishuangbanna Tropical Botanical Gardens, Yunnan, China.
Further details are available at: http://sustainablerubber.org/conference-2016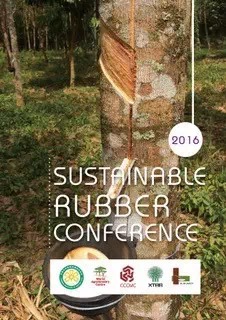 Conference Manual Cover Page (Image by KIB)
Contact:
Prof. XU Jianchu
Email: jxu@mail.kib.ac.cn
Tel: +86 871 6522 3355
Key Laboratory of Economic Plants and Biotechnology
Kunming Institute of Botany, Chinese Academy of Sciences