International training workshop on Community-based Biodiversity Conservation (CBC) was held successfully in Kunming Institute of Botany, Chinese Academy of Sciences (KIB/CAS) for two weeks during 30th Oct. – 13th Nov. 2016. The training workshop mainly took place in Kunming but included one week study tours to Dali and Lijiang Prefectures of Yunnan Province. More than twenty participants from Myanmar, Thailand, Viet Nam, Cambodia, Laos, Nepal, India, Bangladesh, Sri Lanka and China participated in the workshop.
CBC is considered by the Convention on Biological Diversity (CBD) and International Union for Conservation of Nature (IUCN) as an integrity approach with great potential to conserve the remaining larger proportion of lands (greater than 80%) outside National Park or Nature Reserve globally.
South and Southeast Asian is rich in both biodiversity and culture groups, it is a global hot spot for biodiversity and cultural conservation. However, this region is one of the most populated areas with less economic development in the world, but is expected to experience fast changes in terms of socioeconomic transition and ecological conversion. Hence, increasing pressure exists on how to safeguard the nature and use its valuable resources sustainably for livelihoods development. To mitigate this conflict CBC approach is highly recommended.
In addition, China launched "the Belt and Road Initiative", Southeast Asian is one of the key regions for this initiative. Bilateral and multilateral cooperation on scientific research with the area of biodiversity use and environmental conservation is a focal issue in this region within this initiative.
The two weeks workshop provided training courses and networking for young scientists and practitioners working on biodiversity conservation in South and Southwest Asia. Lectures were delivered by well-known professors with rich experience in CBC related issues.
During the study tours, all participants visited two field sites in Dali and Lijiang Prefectures, where CBC systems were practiced for many years. Meantime, country experiences also shared from participants through country reports of relevant topics and field visit.
The workshop received positive feedbacks from all the participants. Common understandings were formed among participants on community-based conservation issues in this region, networks have been built among different countries, and transboundary corporations in the future have also been enhanced.
This worksho organized by KIB and sponsored by CAS Scientific Capacity Training for the Developing World Program

Group Photo (Image by KIB)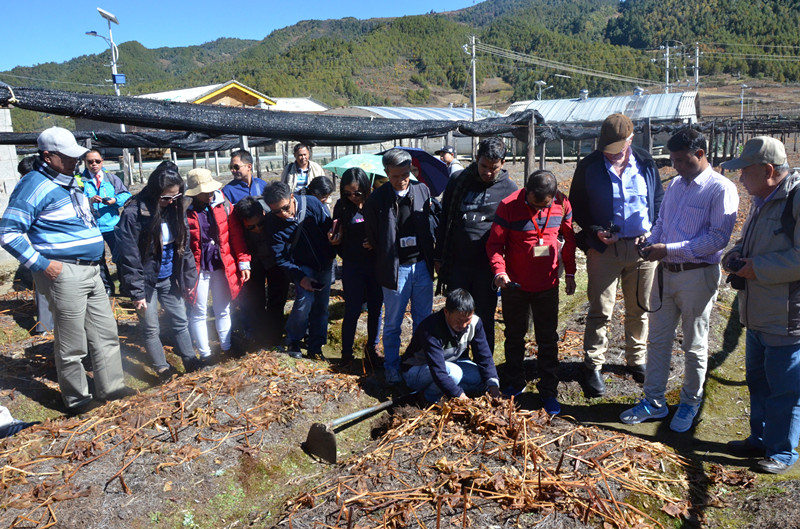 Field Practice (Image by KIB)
Contact:
Dr. YANG Xuefei
Email: xuefei@mail.kib.ac.cn
Tel: +86 871 6522 3909
Key Laboratory of Economic Plants and Biotechnology
Kunming Institute of Botany, Chinese Academy of Sciences