On November 23, 2017, Director SUN Hang of the Kunming Institute of Botany, Chinese Academy of Sciences (KIB/CAS) and Dr. Ravi Prabhu, Deputy Director General (Research) of the World Agroforestry Centre (ICRAF), signed on behalf of both respective institutions a 10-year extension to the International Protection Agreement for Tree Germplasm Resources. The signing of this extension recognizes the expertise and capability of KIB's Southwest China Germplasm Bank for Wild Species (Germplasm Bank), in preserving germplasm resources for the world's important tree species; and will expand the scope and quantity of germplasms preserved at KIB.
Through this continued collaboration, ICRAF will progressively transfer its germplasms, collected from important tree species, to the KIB Germplasm Bank to ensure long-term preservation of these resources. ICRAF and KIB will also work together to promote the sustainable utilization and protection of tree germplasm resources, through exchanges to build capacity, and to share information and technologies. Both parties hope to contribute to the long-term protection and development of germplasm resources for tree species around the world.
Witnessing the signing of the extension were staff from the Science and Technology Cooperation Office of KIB, the Germplasm Bank, and the Center for Mountain Ecosystem Studies (CMES).
Cooperation between KIB and ICRAF is long-standing: in 2002 CMES was established as a joint research platform supported by both institutions, and in 2007 KIB and ICRAF signed the first Protection Agreement for Tree Germplasm Resources. Through this first agreement, KIB now holds in its Germplasm Bank 4 batches of a total of 640 tree germplasms from ICRAF.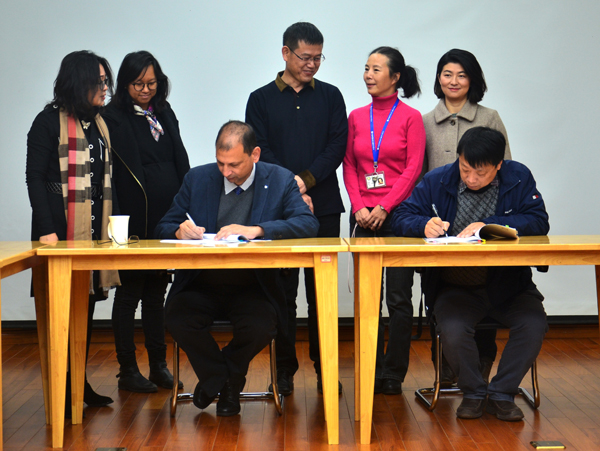 MoU signing ceremony (Image by KIB)
(Editor: YANG Mei)