80-year-old Zeng Xiaolian has been painting plants for almost all his life. Today, his passion is still strong.
He is working on a series about the rainforests in Xishuangbanna in southwest China's Yunnan Province. His goal is to finish 100 drawings on the subject.
"I used to draw a lot of illustrations for botanical books, which mainly focus on single species. Now, I strongly feel that I need to create some works that not only display an individual plant but also show the connections between different species, thus better presenting the beauty of nature," Zeng told CGTN.
Zeng began painting right after graduating from high school in 1958 when he joined the Kunming Institute of Botany in Yunnan Province, under the Chinese Academy of Sciences.
"I was thrilled, and my classmates were all envious of me," Zeng recalled.
China had just launched a massive project compiling the "Flora of China," which called for a batch of illustrators. Zeng, who was neither a botanist nor a professional painter, joined the "glorious mission" due to his painting talent.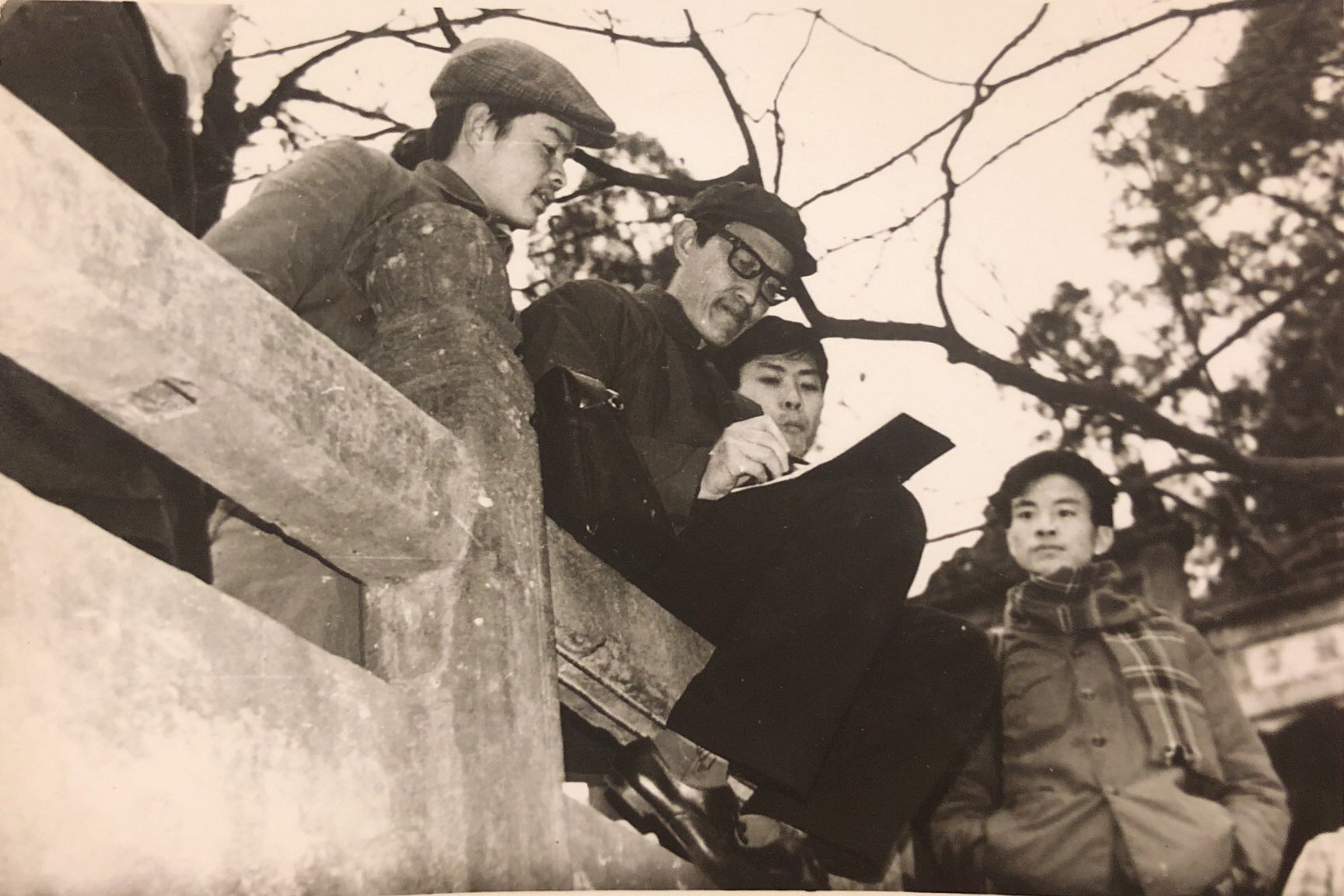 Zeng Xiaolian painting in the wild with his colleagues. /Photo courtesy of the Kunming Institute of Botany
Zeng describes himself as a "slow painter," as he had to learn from related classic publications and his mentors while working. More importantly, he set a high standard for himself.
"Drawing the plants clearly is just the first step. I always tried my best to present their vitality because even a specimen used to be a living creature," said Zeng.
The enormous project, consisting of 126 volumes, records some 31,000 types of plants. It took 45 years to complete and involved the efforts of more than 300 botanists and 160 painters. Zeng said he is proud to be part of the team.
"I did a meaningful thing throughout my whole career. It's something I really love, and I think it was all worth it," said the veteran botanical painter.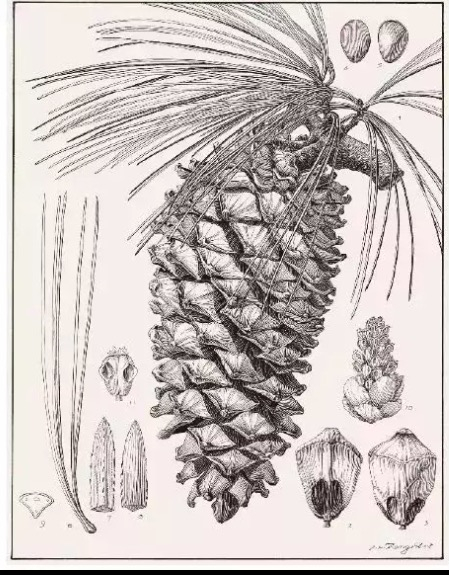 An illustration by Zeng for the Flora of China project. /Photo courtesy of Zeng Xiaolian
Another scientific mission in the 1960s gave Zeng a rare opportunity to get closer to nature. He was assigned to draw potential anti-malaria herbs in dense forests in the border areas of Yunnan, which were submitted to research institutions.
"I was so excited and forgot everything while painting. I even couldn't notice the insects around me. I once got 42 bites from leeches and only found out the next morning when my body was tightly stuck to my bed with blood," Zeng said.
The magnificence of nature stunned him and inspired him to make painting nature his lifetime endeavor.
Following his retirement in 1997, Zeng embarked on a new journey – depicting plants and animals in a more artistic way. He spent several years absorbing more painting techniques from both traditional Chinese and modern Western.
Compared to the illustrations that stress the plants' scientific use, Zeng said his works now focus more on their aesthetic value.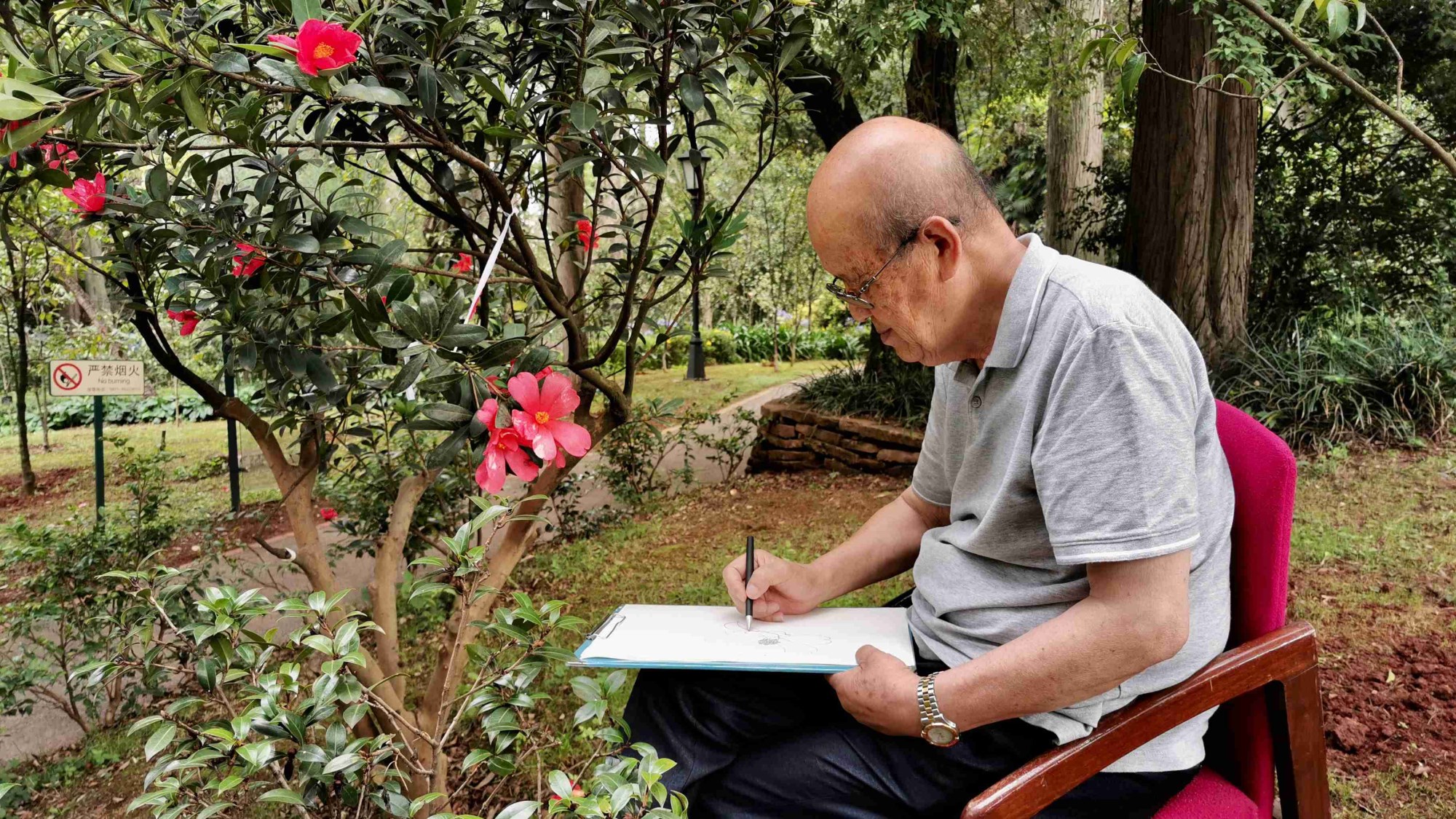 Painting camellia. /CGTN Photo
"But when it comes to 'beauty,' it's actually different from the mainstream concept. My works are based on certain professional knowledge. It means that I first need to know which family and genus a plant belongs to and its morphological characteristics," Zeng said.
Giving an example, he said azaleas with 10 stamens belong to different genus from those with five stamens and so he needs to paint them as they are.
In recent years, he has published hundreds of works, which have been presented in exhibitions and books and on stamps.
One of his latest masterpieces is a giant painting specifically for the International Horticultural Expo underway in Beijing. Titled "The Journey of Chinese Plants," it features 37 plants which originally grew in China and then spread around the world.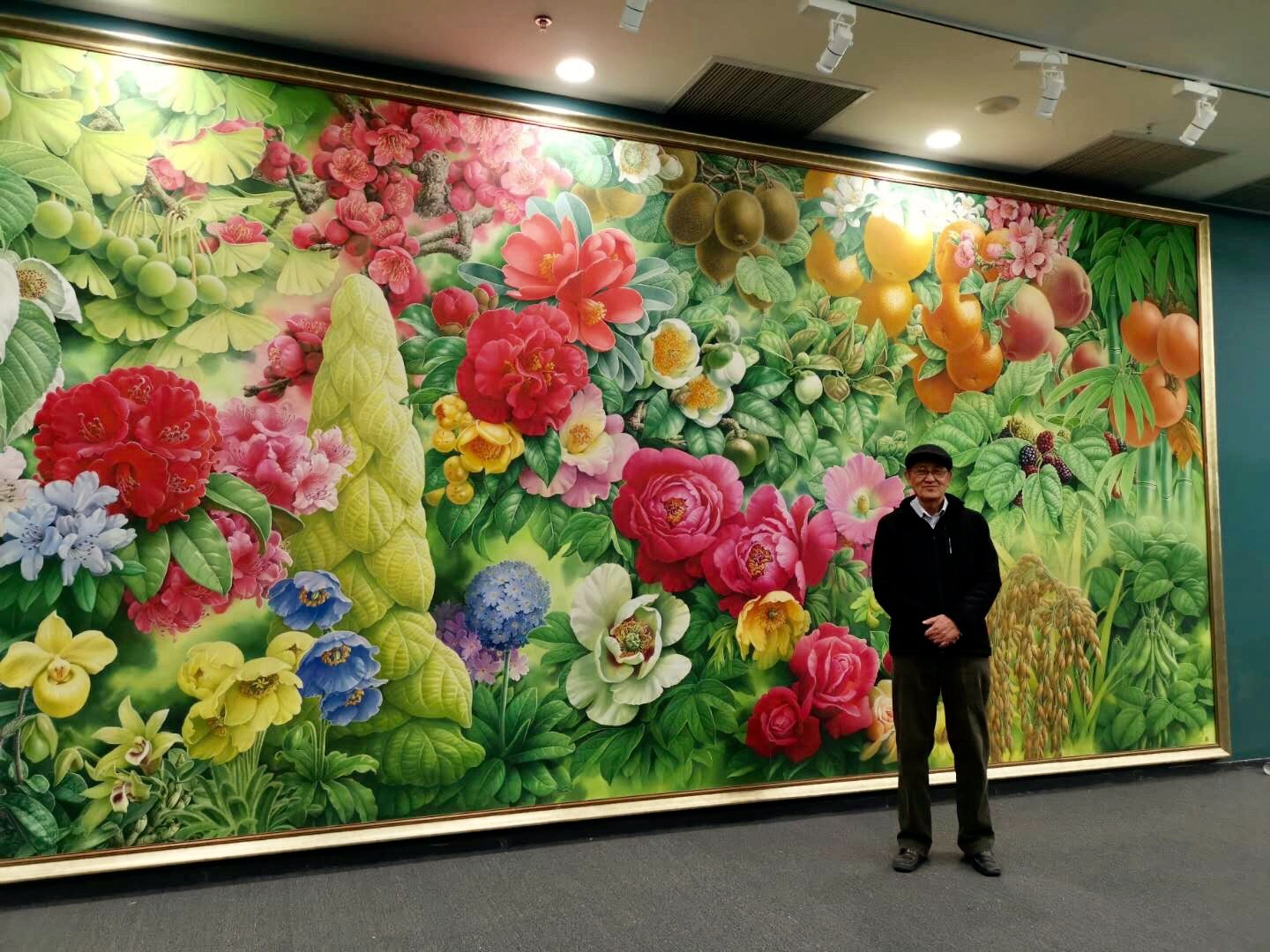 With his masterpiece "Journey of Chinese plants," which is on exhibition in the China Pavilion at the Beijing International Horticultural Expo. /Courtesy of Zeng Xiaolian
"To finish such a large painting in a short period of time, I had no time to prepare a draft and draw them in the wild. So, I could only work based on my experience," said Zheng, adding that it's a big challenge for him given his age.
"Sometimes when I finish a whole day's work, I would shiver all over," he said. "I've painted almost all my life, and still have the chance to contribute a little to the great event. I think it's my honor."
Praising nature with his brush
Looking ahead, Zeng plans to continue to "praise nature and life" with more paintings as long as his health holds out.
"What worries me most is that I would be too weak to hold my paintbrush some day. There are still too many things for me to paint," said Zeng.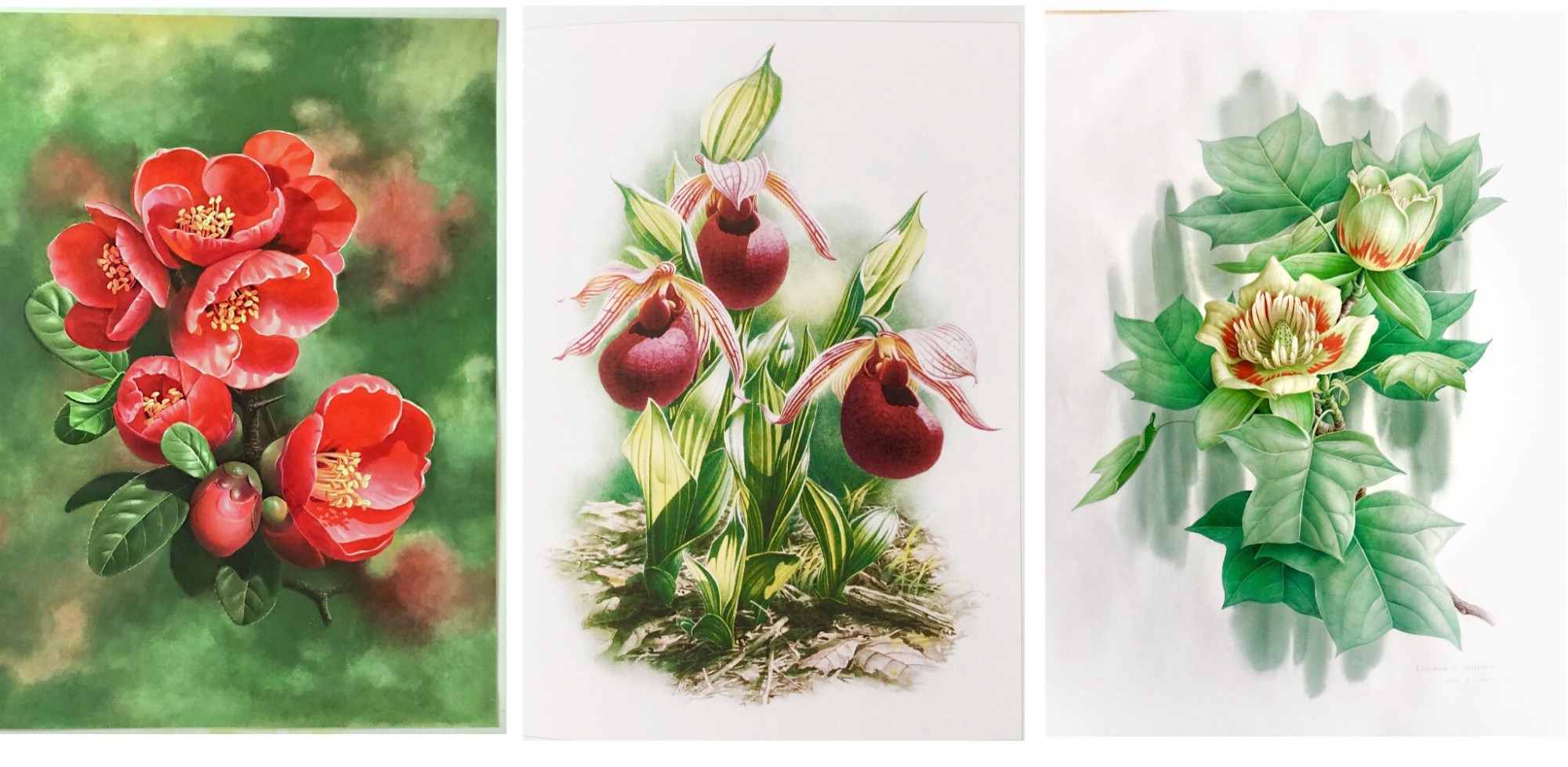 Some of Zeng's paintings. /Courtesy of Zeng Xiaolian
Besides the rainforests series, he is working on another project – painting plants recorded in the Classic of Poetry, or Shijing, the oldest existing collection of Chinese poetry.
Some of Zeng's works have been acquired by museums.
"I have never sold my paintings and will never do that," he said.
Despite success, Zeng remains humble and does refer to himself as an artist.
"I'm just a 'craftsman,' which means I will stick to doing one thing to the best, till the end," said Zeng.
(Cover photo: Zeng Xiaolian paints the rainforests of Xishuangbanna in southwest China's Yunnan Province. /CGTN Photo)
(Editor:YANG Mei)