Kunming Institute of Botany (KIB) and Southeast Asia Biodiversity Research Institute successfully organized an international training workshop entitled "Agrobiodiversity and Conservation of the Belt and Road Countries", which is funded by Bureau of International Cooperation, Chinese Academy of Sciences.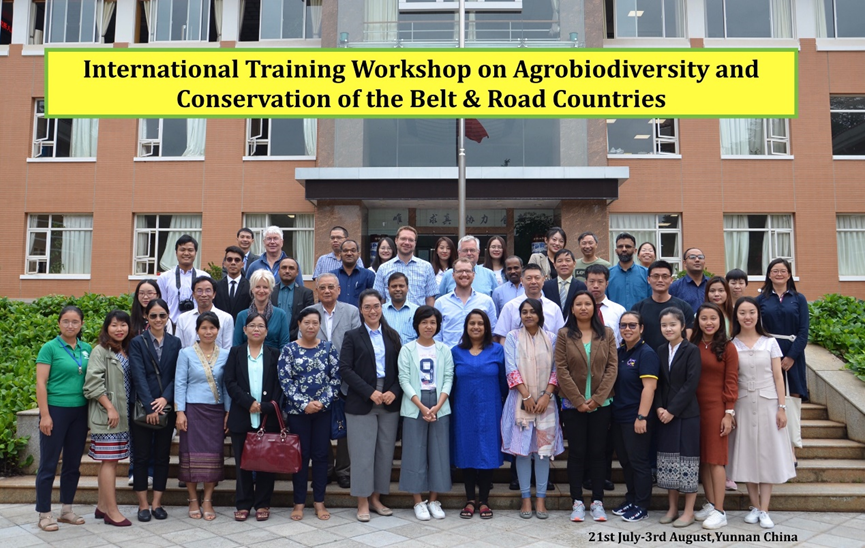 Group Photo (Image by KIB)
The workshop was held in Yunnan Province for two weeks during 21st July-3rd Aug. 2019, with one week's main workshop in Kunming and one week's study tour to visit terraced paddy rice-forest system and Mountain agroforestry in Honghe County; Traditional Dai agro-home garden and Bulang ancient tea-forest system in Xishuangbanna Prefectures of Yunnan Province.
Prof. YANG Yongping, deputy director of Kunming Institute of Botany, chaired this workshop. Forty participants from 15 countires, including Bangladesh, Brazil, China, Germany, India, Laos, Myanmar, Nepal, Pakistan, South Africa, Sri Lanka, Switzerland, Thailand, UK and Vietnam were participated in the workshop.
The workshop aim at Promoting consolidated scientific exchanges, cooperation and achieving common understanding among the Belt and Road Countries.
The workshop began with the opening speech of Prof. yANG Yongping . During the opening session, Mr. GAO Boxuan from Bureau of International Cooperation introduced detailed coorperation and funding schemes along the Belt & Road Countries.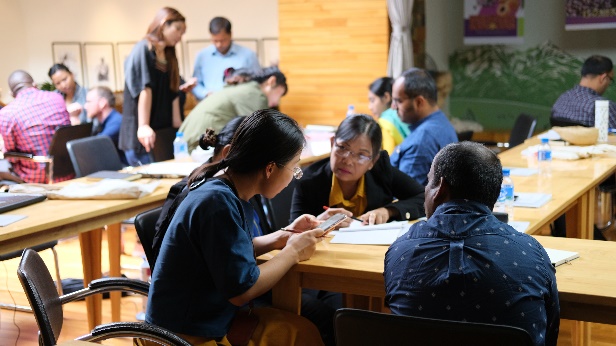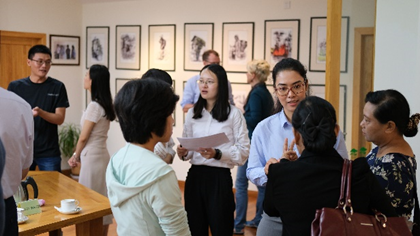 Group Discussion (Image by KIB)
Delegates gave 30 presentations and the experts and researchers discussed from different point of view at the end of each presentation. The topics were mainly concerned with the construction of ecological civilization and green economy which are the guiding principles while promoting multilateral cooperation among Belt and Road Initiative (BRI) countries and In situ and ex situ conservation of agrobiodiversity which is also one of the core components for sustainable development. Bilateral and multilateral cooperation on scientific research in relation with agrobiodiversity assessment and conservation is of fundamental critical.
In the Second week, field trip started from paddy rice farming system, Centre for Mountain Futures in Honghe county, local medicinal plant plantation farm in Mojiang County, the Dai agro-homegarden system at Manyuan village, Institute and Hospital of Xishaungbanna Autonomous Prefecture, to ancient tea forest garden in a local Bulang village ( Zhanglang village) Menghai county.
The participants were actively participants in the trip such as learning the diverse culture and tradition, discussing the planning of mountain future project, assessing the medicinal plants nursery/plantation and mushroom industry, experiencing tea culture. Different possibilities for sustainable mountain development has been the main discussion focus by workshop participants.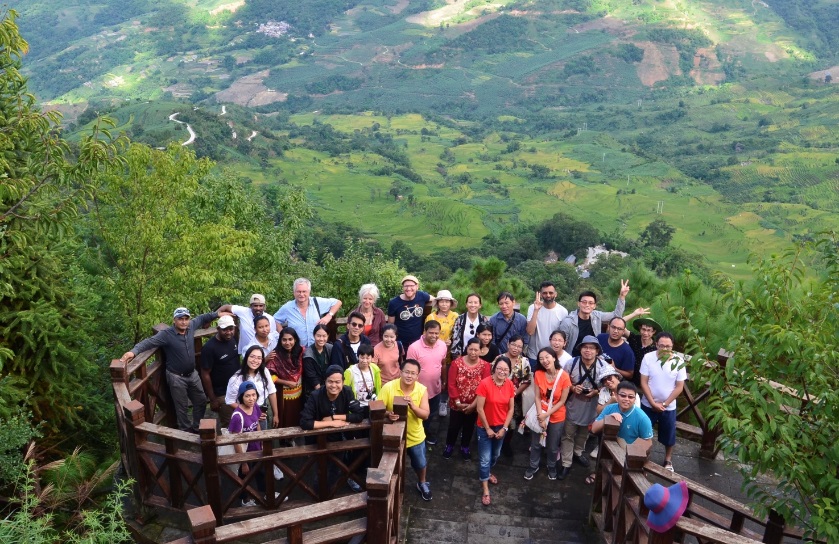 Filed work (Image by KIB)
This workshop achieved its expected outcomes thourgh building mutural turst and common understandings among participants from the Belt & Road Countries. During the field trip, many participants found similar natrual lanscape and cultures in their home Countries; with these common bases, it is more likely to work together to enhance sustainable development along the Belt & Road Countries in the future.
(Editor:YANG Mei)