Chinese scientists have developed a natural biological adhesive from snail mucus to heal traumatic injuries and chronic wounds.
Land snails and their mucus were used to treat pain related to burns, abscesses, and wounds over 2,000 years ago.
Inspired by the age-old therapy, researchers at the Kunming Institute of Botany under the Chinese Academy of Sciences identified a natural biological adhesive from snail secretion. They evaluated its in-vitro adhesion properties and in-vivo effects on wound healing.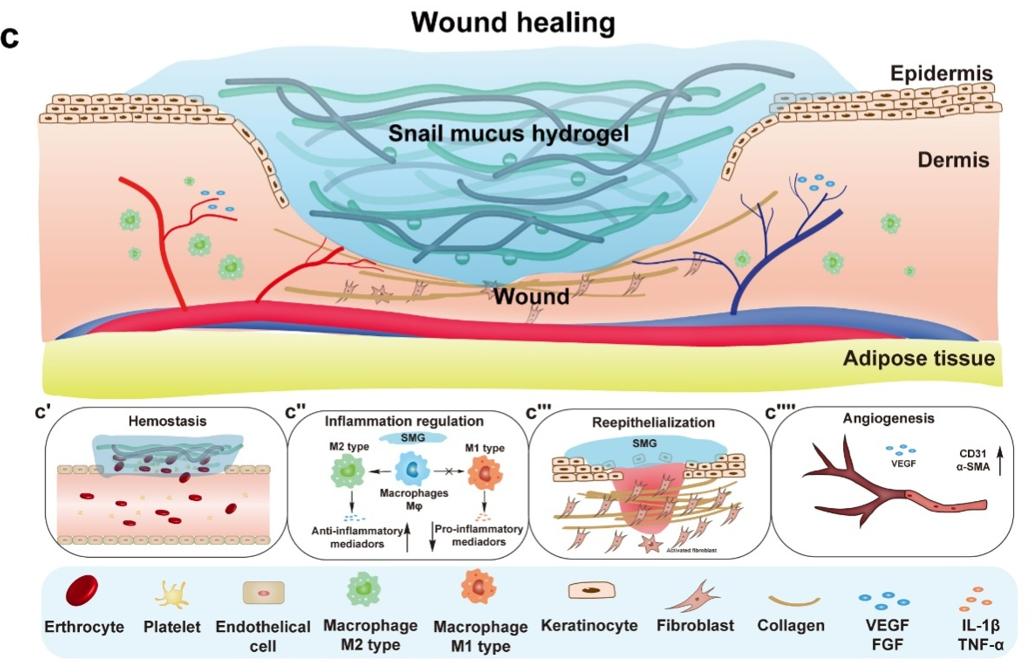 The postulated mechanism of d-SMG in accelerating wound healing, including hemostasis, anti-inflammation, and angiogenesis.
The adhesive from snail mucus gel consists of a malleable bulk adhesive matrix that can adhere to wet tissue through multiple interactions, according to a study published in the journal Nature Communications recently.
The hydrogel effectively accelerates the healing of full-thickness skin wounds in both healthy and diabetic male rats.
Also, it can alleviate inflammation in chronic wounds and significantly improve regeneration, according to the study.
The findings can have important implications for developing next-generation bio-inspired tissue adhesives and bioengineered scaffold designs, said the researchers. (Xinhua)
(Editor: YANG Mei)