Yaoshan Mountain, the cordillera that Wumeng Mountains extends to the northeast, located in Qiaojia County of northeast Yunnan, which is on the edge of Sichuan, Yunnan and Guizhou along Jinshajiang valley. In terms of floristic regions, it belongs to the combining zone of Sino- Himalayan forest Sub-Kingdom and Sino-Japanese forest Sub-Kingdom, between Central China and Yunnan Plateau. Due to its long land history, diverse landscape and rich components of old and transitional flora, it becomes one of the key areas that contact the three major distribution centers of endemic genera of seed plants in China (Eastern Sichuan-western Hubei; Yunnan, Guizhou and Guangxi; Hengduan mountains).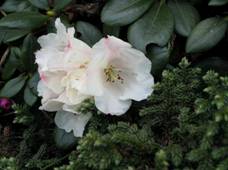 Rhodoendron yaoshanense                   R. qiaojiaense 
Since 2002, the research team, led by Researcher WANG Hong of Kunming Institute of Bonaty (KIB) and under the fund support of the platform project of Ministry of Science and Technology and National Natural Science Foundation, carried out several large-scale investigations and the collection of seed plants in Yaoshan Mountain National Nature Reserve throughout different seasons over a period of six years. They have arranged the seed plants in accordance with "Angiosperm Phylogeny Group II"(APG II)system, and identified a total of 163 families, 809 genera, 2366 species of seed plants, including nine East Asia families, two Chinese endemic families, 27 Chinese endemic genera and 1096 Chinese endemic species (including 16 endemic species in local narrow domain). The new taxa found in Yaoshan Mountain are Pedicularis yaoshanensis, Paris stigmatosa, Cremastra appendiculata, Rhododendron qiaojiaense and R. yaoshanense. They mainly researched the pollination ecology and conservation biology of several endemic orchid species in core and edge region of Yaoshan Mountain National Nature Reserve and proposed reasonable suggestions for species protection. Meanwhile, they presented more than 500 collections of plant seeds from Yaoshan Mountain to the germplasm bank. This work not only enriched the collection and preservation of seed plant specimens of Yaoshan Mountain in KIB herbarium to a larger extent, but also deepened the understanding of the composition, characteristics, origin and evolution of the flora in the region. "Checklist of Seed Plants of Yaoshan Mountain, WE Yunnan " was officially published by the Yunnan Science and Technology Press.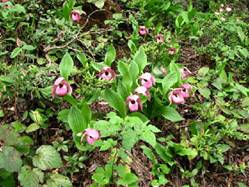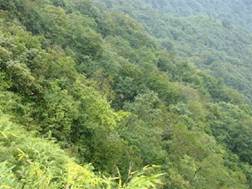 Cypripedium tibeticum           Yaoshan Mountain Vegetation landscape