Doctor ZHANG Ticao and Professor SUN Hang published their new findings on biogeographic implications of Dry-Hot (Warm) Valleys of Southwest (SW) China. Their findings suggest that tectonic events not only made the continuous range of organisms into disjunctive pieces, but also made the disjunctions into continuous.
It is commonly known that the topography of Hengduan Mountains, SW China, had experienced changes dramatically resulted in several quick uplifts of Qinghai-Tibet Plateau. The river drainages of Paleo Red River also experienced dramatical changes during the period. River Capture played an important role in drainage evolution, after which several branches, i.e. upper Yangtze River, Yalong River and Dadu River, were captured by lower Yangtze River step by step and turned left flowing into the East Sea of China. The River Capture not only shifted the landscape of the Hengduan Mountains area, but influenced the population genetic structure of organisms living in the valleys around this area by blocked the gene flow of species.
The researchers employed AFLP markers to study the population structure and evolutionary patterns of Terminalia franchetii, which is commonly distributed in the Dry-Hot (Warm) Valleys of SW China. The results indicate two distinct population genetic groups and four subgroups within this species, as follows: (Ⅰ) the Upper Jinshajiang Valley (subgroup Ⅰnorth) and the Honghe Drainage area (subgroup Ⅰsouth); (Ⅱ) the Middle and Lower Jinshajiang and Yalongjiang Valleys (subgroup Ⅱnorth) and the Nanpanjiang drainage area (subgroup Ⅱsouth). The genetic structure of this species strongly suggest that the modern disjunctive distribution and associated patterns of genetic structure of T. franchetii result from vicariance caused by several historical drainage capture events, involving the separation of the Upper Jinshajiang, Yalongjiang and Daduhe from the Honghe or Nanpanjiang in southwest China.
The research paper (Phylogeographic structure of Terminalia franchetii (Combretaceae) in southwest China and its implications for drainage geological history) was published in Journal of Plant Research, Volume 124, 2010.
Neighbor-joining (NJ) network based on pairwise Fst estimates among populations. Bootstrap values equal to or higher than 45%are shown along branches (1,000 permutations). (image by YUE Liangliang)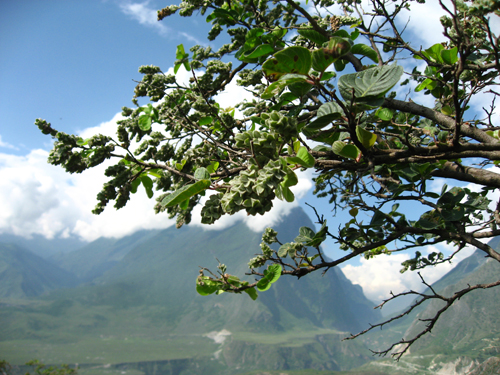 Terminalia franchetii (image by YUE Liangliang)