It is commonly known that the topography of Hengduan Mountains, southwest(SW) China, had experienced changes dramatically resulted in several quick uplifts of the Qinghai-Tibet Plateau. The river drainages of Paleo Red River also experienced dramatic changes during the period. River Capture played an important role in drainage evolution, after which several branches, i.e. upper Yangtze River, Yalong River and Dadu River, were captured by lower Yangtze River step by step and turned left flowing into the East Sea of China. The River Capture not only shifted the landscape of the Hengduan Mountains area, but influenced the population genetic structure of organisms living in the valleys around this area by blocked the gene flow of species.
Dr. ZHANG Tichao, Profs. Hans Peter Comes and SUN Hang investigated the population structure and phylogeography of two varieties of Terminalia frachetii (var. franchetii and var. intricata), which are commonly distributed in the Dry-Hot (Warm) Valleys of SW China, using chloroplast DNA sequences.The results suggest high overall haplotype diversity and low within population haplotype diversity, which indicates high level of isolation pattern of populations and phylo-groups. Two of all five phylo-groups identified in this study represent disjunctive distributions of dominant haplotypes between northern and southern valleys, and strongly corresponded with paleo landscape of past drainage systems. Researchers concluded that the modern distribution of T. franchetii, and associated patterns of cpDNA haplotype variation, result from vicariance caused by several historical river evolution events. Molecular dating of these events (mid-to-late Pleistocene) agrees with previous time estimates of drainage re-arrangements in the Sino-Himalaya region.
The paper "Chloroplast phylogeography of Terminalia franchetii (Combretaceae) from the eastern Sino-Himalayan region and its correlation with historical river capture events" was published in Molecular Phylogenetics and Evolution (2011 60 (1): 1-12).
Geographic distribution of cpDNA haplotypes (H1–H12) detected in 28 populations (1–28) of Terminalia franchetii in the Sino-Himalayan region (1–5: var. intricata; 6–28: var. franchetii).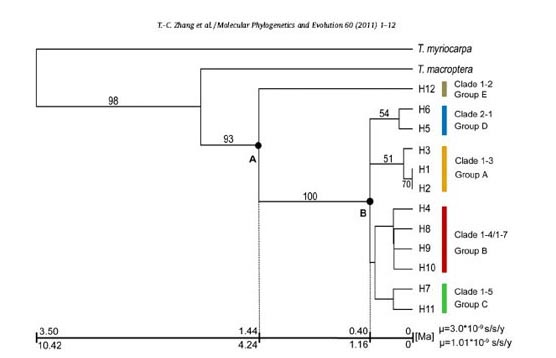 Clock-constrained maximum-likelihood (ML) tree for twelve cpDNA haplotype sequences of T. franchetii (H1–H12) estimated under the K81uf + I model of sequence evolution and rooted with T. myriocarpa and T. macroptera. Numbers above branches indicate MLclock bootstrap values (>50%) from 100 replicate heuristic searches.