Professor CHEN Jijun and his colleagues systemically studied the chemical components of traditional Chinese medicinal herbs-Swertia mileensis to provide 23 interesting new compounds and another 16 compounds.
Based on spectral evidence and X-ray single diffraction analysis, these new compounds had be elucidated as 4 novel types of iridoid lactones composing of C18, C20 , C29 including A-G (swerilactones A-G), and one novel type of iridoid lactones to possess naphthalene including swerilactones H-I. In addition, there is one novel secoiridoid aglycone dimer maned swerilactones J, nine new seco-iridoid aglycones including sweriridoids A-I and four novel secoiridoid aglycones dimer linked by glycosidic bond -- sweriridoids J-M. The biosynthesis ways of these novel iridoid lactones have preliminarily studied, which the results were published in the Org. Lett ranked top 15% in journals of related fields.
The anti-HBV activities on the Hep G 2.2.15 cell line in vitro of these compounds separated from S. mileensis were evaluated and results showed that swerilactone H exhibited well anti-HBV activities against the secretion of HBsAg with SI of 9.84 and HBeAg SI of 4.16, respectively. Moreover, the other two compounds showed moderate anti-HBV activity. The series of iridoid lactones with novel skeletons isolated from S. mileensis not only greatly enriched the compound bank of natural products but also provided an important chemical and physical basis for the rational use of S. mileensis of the Yunnan's unique TCM.
This work was granted by the key projects of NSFC-Yunnan Joint Fund (U0832603).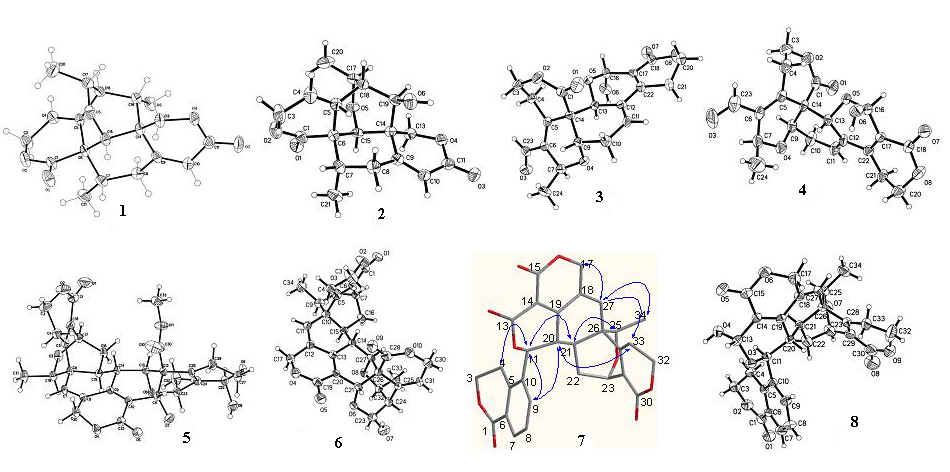 Part of the structure of novel compounds