Vibralactone (1), a rare fused bicyclic β-lactone from the basidiomycete fungus Boreostereum vibrans (syn. Stereum vibrans), was found to inhibit pancreatic lipases highly relevant to fat absorption. While vibralactone seems structurally simple for its small size, contradicting biosynthetic origins, including sesquiterpenoid and polyketide, of this bicyclic β-lactone have been proposed. Furthermore, very little has been done on the biosynthetic mechanisms for natural products isolated from basidiomycete fungi in general.
ZENG Ying's and LIU Jikai's groups, from Kunming Institute of Botany,have recently established the biosynthetic origin of vibralactone and obtained evidence for its biosynthetic pathway which includes several very interesting reactions which may involve unusual enzymes. The bicyclic lactone core of vibralactone could be attributed to an intramolecular cyclization of the seven-membered ring intermediate 3, which is likely to arise from an oxidative expansion of the aryl ring moiety that is derived from phenylalanine and shikimate pathways. Vibralactone has a unique chemical structure and potent biological activity, and is isolated from a basidiomycete fungus. All of these attributes make vibralactone a worthy target for biosynthetic investigation. The establishment of its biosynthetic pathway will be valuable for future elucidation of the molecular mechanism for its biosynthesis. Additionally, VibPT is an aromatic prenyltransferase (PTase) potentially implicated in the biosynthesis of vibralactone, as well as an aromatic PTase, which was first characterized in basidiomycete fungi. This findings provide the first insight into a novel route for β-lactone formation in mushrooms, which was published on Angewandte Chemie International Edition 2013, 52: 2298–2302(http://onlinelibrary.wiley.com/doi/10.1002/anie.201208182/abstract).
This research was supported by grants from the National Natural Science Foundation of China (31170061), and the National Basic Research Program of China (973 program, 2009CB522300 and 2013CB127500).

Proposed biosynthesis of vibralactone (1)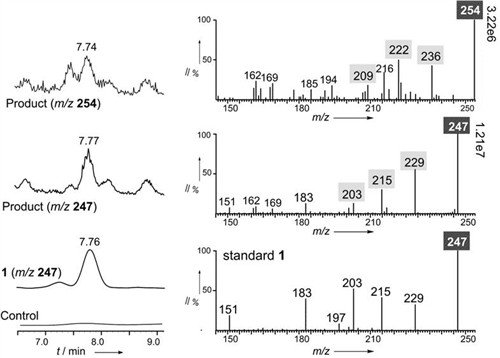 The cell-free enzymatic conversion of 3(normal and labeled) to 1 as confirmed by triple quadrupoleLC-MS/MS