Cremastra malipoensis G. W. Hu, a new rare species in Orchidaceae, was recently discovered by Dr. HU Guangwan from Kunming Institute of Botany. It occurs in southeastern Yunnan, China, near the border of Vietnam. It is most similar to C. appendiculata, but its inflorescences have fewer flowers, only 4-7; its flowers are positioned horizontally and become slightly pendulous; lateral lobes of lip are geniculate and twist 90° at base, the mid-lobe of lip is somewhat reflexed, rhombic to broadly ovoid, 9-10 × 8-9 mm. These characters make it distinct from the latter species and a taxonomic key differentiates the taxa in Cremastra.
The new species is known only from a single population and categorized under the ICUN criteria as critically endangered (CR). Formal recognition is required for protecting this species from extinction.
Description of this new species was published in Systematic Botany and photo of its flower was selected as one picture on cover of this issue.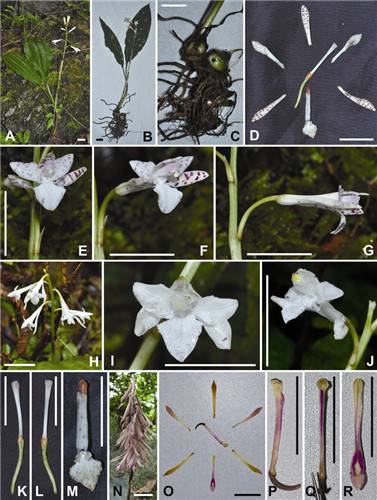 A-M: Cremastra malipoensis G. W. Hu
N-R: C. appendiculata (D. Don) Makino