With the sequencing of genomes from many organisms now complete and the development of high-throughput sequencing, life science research has entered the functional post-genome era. Therefore, deciphering the function of genes and how they interact is in greater demand. To study an unknown gene, the basic methods are either overexpression or gene knockout by creating transgenic plants, and gene construction is usually the first step. Although traditional cloning techniques using restriction enzymes or a site-specific recombination system (Gateway or Clontech cloning technology) are highly useful for efficiently transferring DNA fragments into destination plasmids, the process is time consuming and expensive.
To facilitate the procedure of gene construction, HU Xiangyang's group , from Kunming Institute of Botany, designed a TA-based cloning system in which only one step was needed to subclone a DNA fragment into vectors. Such a cloning system was developed from the pGreen binary vector, which has a minimal size and facilitates construction manipulation, combined with the negative selection marker gene ccdB, which has the advantages of eliminating the self-ligation background and directly enabling high-efficiency TA cloning technology. The technology developed a set of transient and stable transformation vectors for constitutive gene expression, gene silencing, protein tagging, subcellular localization analysis and promoter activity detection. The results show that such a system is highly efficient and serves as a high-throughput platform for transient or stable transformation in plants for functional genome research.
This work "A Series of TA-Based and Zero-Background Vectors for Plant Functional Genomics" has been published in PLoS ONE. This research was supported by the 100 Talents Program of the Chinese Academy of Sciences, and National Sciences Foundation of China.

Upper Figure: Constructing the transient expression vector based on TA cloning system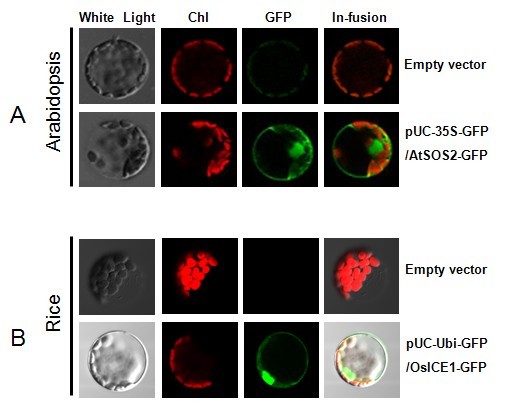 Bottom Figure: Expressing the target gene by arabidopsis or rice protoplasts