Plants may adapt to alpine habitats by specialization in the reproductive strategy and functional aspects of their flowers and pollination systems. Alpine habitats reduce the opportunities for cross-pollination in a relatively high proportion of alpine plant species, and self-pollination may be favored in these adverse conditions.
Recently, Drs. AI Honglian and ZHOU Wei advised by Profs. WANG Hong and LI Dezhu , from Kunming Institute of Botany, investigated the mating system and pollination of Incarvillea mairei, a perennial Himalayan herb typically found at highter altitudes above 3000 m. The results indicated that the species had a set of apparently specialized floral traits, the stigma is sensitive to touch and close immediately and its reopening allows a second opportunity for the receipt of pollen. This study confirmed that the floral biology of I. mairei consists of a suite of mechanisms which appear to promote high pollination efficiency despite the low availability of pollinators. The combination of the movement of sensitive stigmas, anther prongs, and pollinator behavior a remarkably efficient breeding system, and make it possible to ensure successful reproduction in the harsh alpine environment. Recognition of this mechanism may be of great significance to our understanding the adaptation, speciation and diversity of alpine plants in the Himalaya-Hengduan mountains region.
This paper was published in BMC Plant Biology on1 December, 2013, entitled "The Reproductive Strategy of a Pollinator-limited Himalayan Plant, Incarvillea mairei (Bignoniaceae)" (http://www.biomedcentral.com/1471-2229/13/195). This study was supported by the Key Research Program of the Chineses Academy of Sciences ( KJZD-EW-L07), the National Key Basic Research Program of China ( 2014CB954100) and the National Natural Science Foundation of China ( 31200289).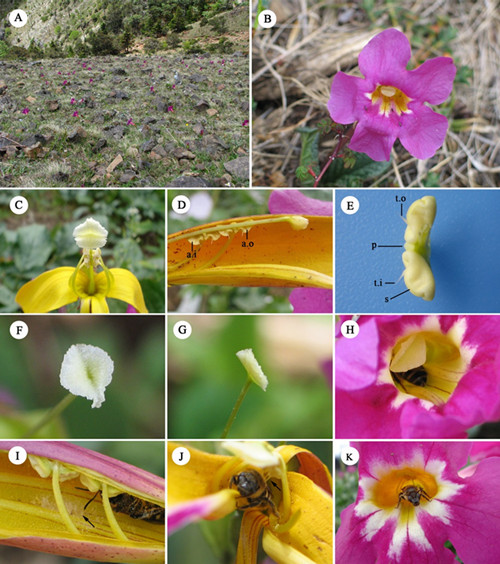 Fig. 1 Flower structures of Incarvillea mairei and its pollinator behavior.