Recently, the Research Group in Fungal Diversity and Molecular Evolution, Kunming Institute of Botany, the Chinese Academy of Science, has described a new genus, Cibaomyces Zhu L. Yang, Y.J. Hao & J. Qin, of Physalacriaceae. The type species of this genus is Cibaomyces glutinis Zhu L. Yang, Y.J. Hao & J. Qin. The known distribution is southwestern China and northern Japan. "Cibao-" refers to the fungus with echinate basidiospores, morphologically, this genus is characterized by the combination of the following characters: basidioma small to medium-sized, collybioid to tricholomatoid; pileus viscid; hymenophore sinuate to subdecurrent, relatively distant, with brown lamellar edge; stipe sticky and densely covered with felted squamules; basidiospores thin-walled, ornamented with finger-like projections; cystidia nearly cylindrical, thin-walled, often heavily incrusted. Molecular phylogenetic analyses using DNA nucleotide sequences of the internal transcribed spacer region and the large subunit nuclear ribosomal RNA loci indicated that Cibaomyces was related to Gloiocephala, Laccariopsis and Rhizomarasmius.
The habits and methods of nutrition of species of Physalacriaceaethis are various and complex. Most of them grow on buried wood, and species of the Strobilurus are sarprophytic fungi most of which only growing on certain kind of pine cones, while Armillaria develop a complex symbiotic-parasitic relationship with Gastrodia elata. This family is notable for its many economical species, of which most are edible, while some are using as medicine.
This study was supported by the National Basic Research Program of China (No. 2014CB138305), the National Natural Science Foundation of China (No. 31170024), the CAS/SAFEA International Partnership Program for Creative Research Teams, and the Knowledge Innovation Program of the Chinese Academy of Sciences (No. KSCX2-EW-Z-9). This work has already published in Phytotaxa (Hao et al. 2014. Doi: http://dx.doi.org/10.11646/phytotaxa.162.4.2).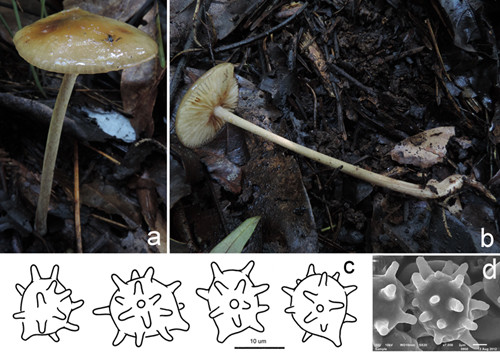 Basidoma (a-b) and spores (c line drawing; d SEM) of Cibaomyces glutinis