Schisandra chinensis (Wuweizi) is a tonic in traditional Chinese herbal medicine that has been widely used for thousands of years to treat insomnia, remove fatigue, sedate and enhance mental and intellectual functions. While most researches focus on the pharmacological activity of the lignans of S. chinensis for the effects on the central nervous system (CNS), the study about the function and mechanism of the abundant triterpenoids of S. chinensis, such as nigranoic acid (SBB1), is largely unknown in neurology. Several signaling molecules, including Ca2+, nitric oxide (NO), extracellular signal regulated kinase 1 and 2 (ERK1/2), brain-derived neurotrophic factor (BDNF) and c-fos, have been implicated as playing key roles in long-term potentiation formation and maintenance.
Prof. Sun Handong's research team and Prof. Luo Huairong's laboratory from Kunming institute of botany found that triterpenoids from S. chinensis had neural pharmacology activity and its mechanism of action using PC12 cells. The results showed that SBB1 induced Ca2+ influx in a time- and concentration-dependent manner, which was significantly attenuated in Ca2+ free media. SBB1 promoted the NO production which depended on increasing cytoplasmic Ca2+ level. Moreover, SBB1 stimulated activation of ERK1/2 through Ca2+-CaMKII pathway, and increased the expression of BDNF and c-fos genes. All these downstream effectors of SBB1 were closely related with the formation and maintaining of learning and memory. Therefore, the study may help to understand the clinical effect of the Chinese traditional medicine S. chinensis in treating CNS related diseases.
The above research results published online in the Journal of Ethnopharmacology (http://dx.doi.org/10.1016/j.jep.2014.03.038) with the title as 'Effect of nigranoic acid on Ca2+ influx and its downstream signal mechanism in NGF-differentiated PC12 cells'. This work was partially supported by the 100 Talents Program of the Chinese Academy of Sciences, the National Natural Science Foundation of China and the Yunnan provincial government.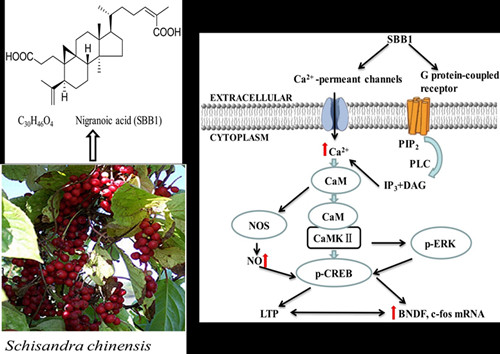 Nigranoic acid (SBB1) increased the expression of BDNF