Genomic imprinting is an interesting epigenetic phenomena, results in parent-of-origin specific differential expression of maternally and paternally inherited alleles. In plants, the triploid endosperm is where gene imprinting occurs most often, but aside from studies on Arabidopsis, little is known about gene imprinting in dicotyledons.
Dr. LIU Aizhong's research team from Kunming Institute of Botany (KIB) found that genomic imprinting and methylation in castor bean. The results have provided an excellent system for studying gene imprinting in dicotyledons and inspected genomic imprinting and methylation in castor bean (Ricinus communis) endosperm, which persists throughout seed development. This identified a large number of imprinted genes in castor bean hybrid endosperms, and found that a significant enrichment of differentially methylated regions around these identified genes, strongly suggesting DNA methylation be a powerful driving factor for gene imprinting arising.
This study largely enriches the existing information on genomic imprinting in dicotyledons. And paves a basis for answering some unknown questions on the potential functions and mechanisms underlying gene imprinting arising. Also, This study even shed some light into the evolution and biological significance of gene imprinting in plants.
The above research results published online in the Nucleic Acids Research(doi: 10.1093/nar/gku375)with the title as 'Genomic imprinting, methylation and parent-of-origin effects in reciprocal hybrid endosperm of castor bean'. This work was financially supported by the 100 Talents Program of the Chinese Academy of Sciences. (http://nar.oxfordjournals.org/cgi/reprint/gku375?ijkey=bxA4jzWT9h31Gh5&keytype=ref)。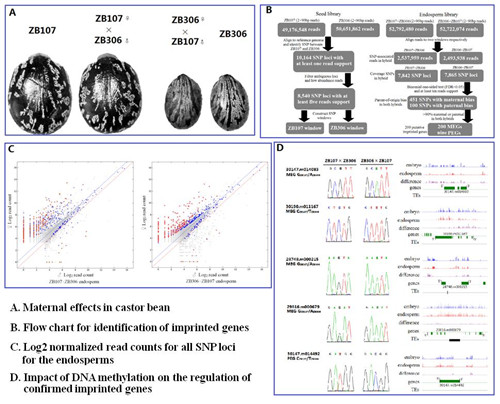 This figure shows the identification and characterization of imprinted genes in castor bean. (Image by KIB)