The temperate woody bamboos, i.e., tribe Arundinarieae are widely distributed in Asia, North America, and Africa, with China as the center of diversification at the species and generic levels. This tribe includes economically important species, such as moso bamboo (Phyllostachys edulis (Carrière) J. Houzeau), and the staple bamboos for the giant panda (e.g. Fargesia spp.). Species delimitation and the relationships among genera have been disputed for a long time because of complex and variable vegetative features and from a scarcity of specimens with inflorescences available for morphological comparisons.
   The research group lead by Professor LI Dezhu of the Kunming Institute of Botany, has focused on the molecular phylogeny and evolution of Bambusoideae for over a decade. Using a comprehensive sampling approach, the researchers recovered 10 major lineages of Arundinarieae based on analysis of eight non-coding plastid regions (Zeng et al. 2010, Mol. Phylogenet. Evol.). Recently, an additional lineage, "lineage XI," was recovered using plastid and nuclear sequence analyses (Yang et al. 2013, Mol. Phylogenet. Evol.). Despite these advancements, relationships among and within lineages remained unresolved.
Next-generation sequencing technology and phylogenomics have led to the phylogenetic reconstruction of these difficult groups. Based on the previous study by Zhang, Ma, & Li (2011, PLOS ONE), Dr. MA Pengfei and other researchers of the group utilized next-generation sequencing technology to retrieve chloroplast genomes of representatives of 11 lineages in Arundinarieae. With different analysis methods and data partitioning, four main points were concluded. First, phylogenetic analyses of coding versus noncoding sequences and of different regions of the genome (large single-copy, small single-copy, and inverted repeat regions) yielded no well-supported contradicting topologies, but potential incongruence was found between coding and noncoding sequences. Second, use of various data partitioning schemes in analysis of the complete sequences resulted in nearly identical topologies and node support values, although the partitioning schemes were decisively different from each other as to how they fit the data. Third, the full genomic dataset substantially increased resolution along the backbone of the phylogeny and provided strong support for most relationships, despite very short internodes and long branches in the tree. Moreover, the inferred relationships were also robust to potential confounding factors (e.g. long-branch attraction) and received support from independent indels in the genome. Finally, resolution of deep-level relationships of Arundinarieae illustrated that chloroplast phylogenomics can be used to elucidate difficult phylogenies at low taxonomic levels in intractable plant groups.
  This study is significant not only because it clarifies the phylogeny and evolution of temperate woody bamboos, but since it also provides an important case study for chloroplast phylogenomic reconstruction of challenging plant groups. This study was funded by the National Natural Science Foundation of China (Grant Nos.: U1136603, 31170204 and 30990244) and the Yunnan Province Government through an innovation team program (No. 2009CI011). The research has been recently published online in a top journal in evolutionary biology, Systematic Biology (http://sysbio.oxfordjournals.org/content/early/2014/08/04/sysbio.syu054.short?rss=1).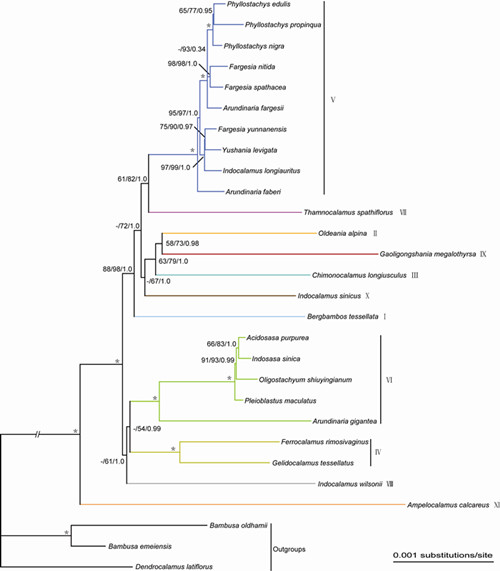 Phylogenetic relationships of Arundinarieae inferred from the 28-taxa dataset with all 11 major lineages of the tribe sampled