The genus Physalacria Peck is characterized by the so called physalacrioid mushrooms with a bubble-like head and a slender stalk (Fig. 1). More than 30 species of this genus were described in the tropics, while only two were documented from China and their phylogenetic relationships were never addressed before.
QIN Jiao, a PhD candidate of Prof. YANG Zhuliang's research team at Kunming Institute of Botany,Chinese Academy of Sciences elucidated the monophyly, species diversity and geographic distribution patterns of Physalacria by using multi-gene phylogenetic and morphological analyses.
The researchers collaborated with colleagues at home and aboard studying the collections from the field in recent years. They revealed that Physalacria is a natural group of organisms (Fig. 2). Eleven species belonging to three major clades were recognized in the study and showed interesting geographic distribution patterns with different latitudes (Fig. 2). Three new species, viz., Ph. corneri, Ph. lacrymispora and Ph. sinensis were uncovered and documented, and a dichotomous key to the Asian species of this genus was provided to better facilitate the further study (Fig 1).
The study has recently been published on line in Mycologia (an internationally well-known journal founded by the Mycological Society of America in 1909) at: http://www.mycologia.org/content/early/2015/10/28/15-166.abstract
This study was supported by the National Natural Science Foundation of China (No. 31170024), the CAS/SAFEA International Partnership Program for Creative Research Teams and the Knowledge Innovation Program of the Chinese Academy of Sciences (No. KSCX2-EW-Z-9).
Fig. 1 Three new species of Physalacria in China (Image by KIB)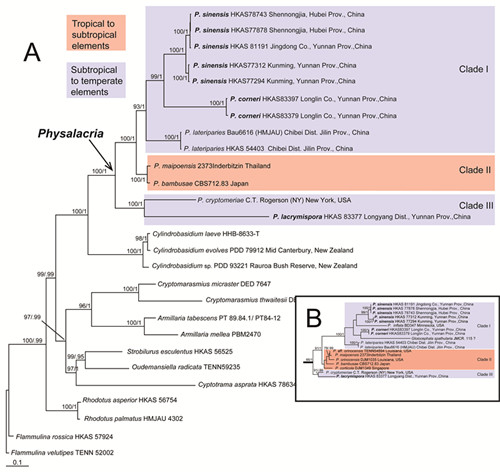 Fig. 2 Phylogenies of Physalacria. Panel A shows the results generated from concatenated matrix of ITS, 28S, tef1-α and rpb2 sequences, and panel B shows the phylogeny inferred from 28S sequences (only species of Physalacria are shown). (Image by KIB)
Contact:
Key Laboratory for Plant Diversity and Biogeography of East Asia, CAS
Kunming Institute of Botany
Prof. Dr. YANG Zhuliang
Email: fungi@mail.kib.ac.cn