The predominantly aquatic order Alismatales, which includes approximately 4500 species within Araceae, Tofieldiaceae, and the core alismatid families, is a key group in investigating the origin and early diversification of monocots. They have undergone extensive diversification, displaying all major aquatic life-forms, including emergent, floating-leaved, free-floating, submersed, and fully aquatic, and exceptionally high diversity of flower morphology and development as well. In addition, these plants play an important ecological role in both freshwater and coastal ecosystem.
The near-basal phylogenetic position of the Alismatales order in monocots makes it potentially important in inferring the evolution of early diverging monocots. In the current APG framework, Acorales is inferred as the first branch and Alismatales the second branch to diverge within monocots. Although most molecular phylogenetic studies have placed Araceae as sister to the rest of Alismatales, there remains some controversy regarding the root of this order.
Under the supervision of Prof. LI Dezhu, and Prof. WANG Hong at Kunming Institute of Botany, PhD student LUO Yang, Dr. MA Pengfei and their colleagues from Kunming Institute of Botany explored the evolution of early diverging monocots based on plastid phylogenomics. The researchers sequenced the complete plastid genomes of several representive taxa from Tofieldiaceae, Potamogetonaceae and Alismataceae, which were first reported in each family. Among them, the plastid genome of Sagittaria lichuanensis is the largest in monocots with a size of 179,007 bp. The researchers also detected 2.4 kb and 6 kb inversions in the plastid genomes of Sagittaria and Potamogeton, respectively. Further, with different analysis methods and data partitioning based on a 79 plastid protein-coding gene sequence data matrix of 22 taxa which together represent all primary lineages of monocots and outgroups, the monophyly of Alismatales was confirmed and the family Tofieldiaceae was resolved as the most basal lineage within Alismatales.
This study not only clarifies the phylogeny and evolution of early diverging monocots, but also provides an important case study for plastid phylogenomic reconstruction of key nodes within plant groups. This work was supported by the National Key Basic Research Program of China (No. 2014CB954100), a Major International Joint Research Project of National Natural Science Foundation of China (NSFC) (No. 31320103919) , and partially supported by an NSFC project (No. 31270272), and Youth Innovation Promotion Association of Chinese Academy of Sciences (2015321).
The study has recently been published on line in Genome Biology and Evolution http://gbe.oxfordjournals.org/content/early/2016/03/08/gbe.evv260.short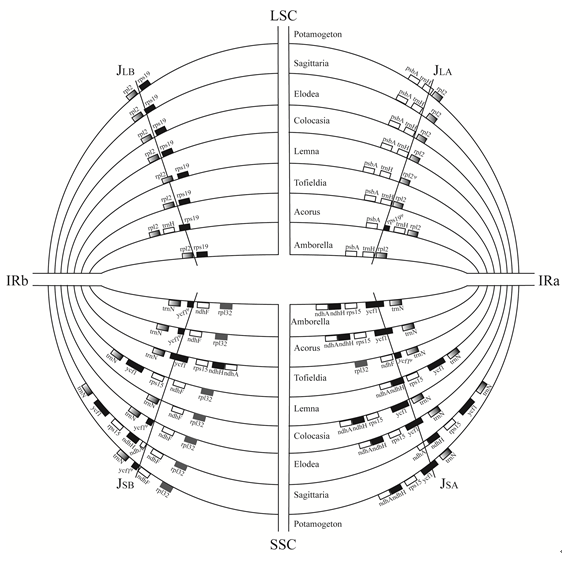 Figure 1: Comparison of junction positions (JLB, JLA, JSB, and JSA) between IR and single-copy regions. Included are six representative Alismatales taxa and two outgroups (Amborella and Acrorus) (Image by KIB)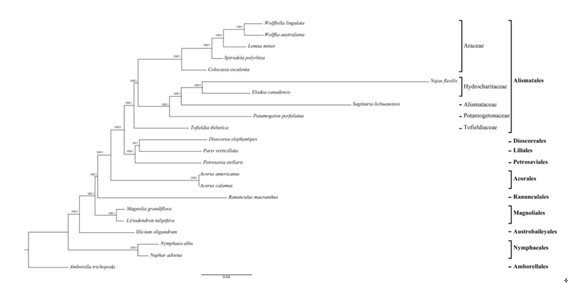 Figure 2: Phylogenetic tree of 22 taxa based on 79 plastid protein-coding genes using unpartitioned maximum likelihood (ML) and Bayesian inference (BI)
Contact:
Key Laboratory for Plant Diversity and Biogeography of East Asia, CAS
Kunming Institute of Botany
PhD candidate: LUO Yang
Email: luoyang@mail.kib.ac.cn