Mushrooms of Cyptotrama Singer belong to the family Physalacriaceae. More than 10 species of this genus were described in the pantropic regions, while only one was documented from Asia before.
The bilateral lamellar trama has been used as the most important character for the identification of Cyptotrama. The presence or absence of squamules on the surface of the basidiomata and clamp connections on septa of hyphae were also emphasized for the systematic arrangement of this genus.
Four sections were erected, among which sect. Xerulina represents species with squamules and clamp connections. However, some mycologists insist that Xerulina should be a separate genus instead of a section of Cyptotrama, which needs to be further testified by using molecular data.
Based on collections from East Asia, South Asia, Southeast Asia, New Zealand, Canada and United States, QIN Jiao, a PhD candidate of Prof. YANG Zhu Liang's research team at Kunming Institute of Botany, Chinese Academy of Sciences (CAS) elucidated the monophyly, species diversity and character evolution patterns of Cyptotrama by using multi-gene phylogeneticand morphological analyses.
The study revealed that Cyptotrama is a natural group of organisms and Xerulina is a synonym of Cyptotrama; Bilateral trama and squamules originated independently at least twice, while the clamp connections occured in most species except for the basal species in this genus;Seven species were recognized in Asia, including three new species: viz., C. angustispora, C. glabra and C. shennongjia. Furthermore, , Marasmius trogioides, M. trogioides var. megaspora and Xerulina myochroa were transferred to Cyptotrama.
The results showed new lights on evolution and speciation of the genus in Asia.
The study has recently been published online in Fungal Biology (founded by the British Mycological Society): http://www.sciencedirect.com/science/article/pii/S1878614616000210
This study was supported by the National Natural Science Foundation of China (No. 31170024), the CAS/SAFEA International Partnership Program for Creative Research Teams and the Knowledge Innovation Program CAS (No. KSCX2-EW-Z-9).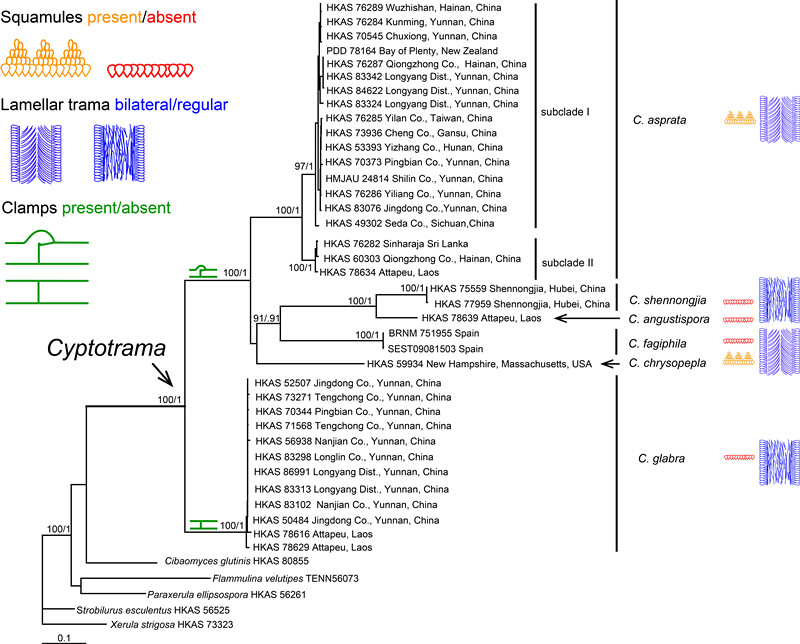 Figure1: Phylogenies of Cyptotrama inferred from concatenated matrix of ITS, 28S and β-tubulin sequences (Image by KIB)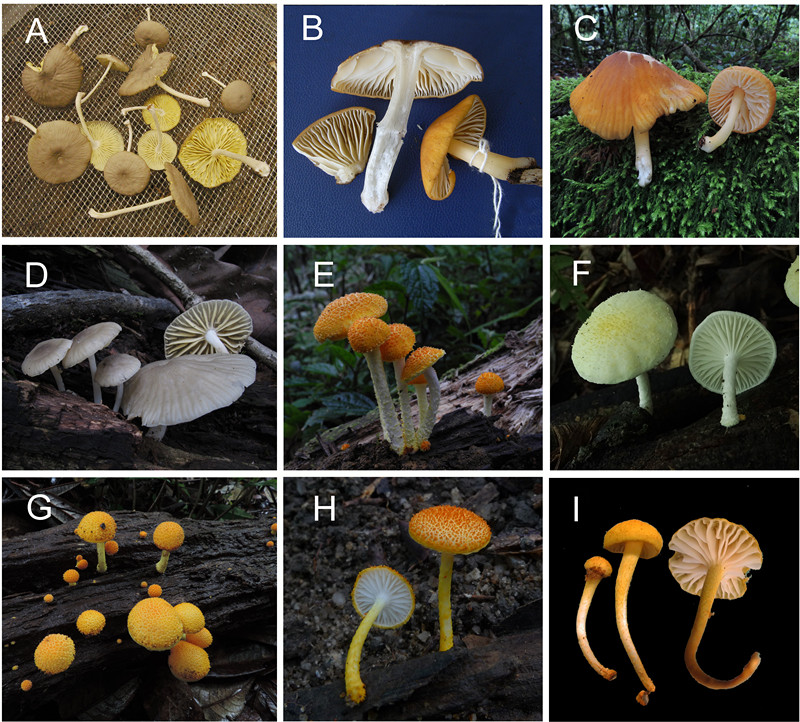 Figure 2: Basidiomata of five species of Cyptotrama. A. C. angustispora; B-C. C. glabra; D. C. shennongjia; E-H. C. asprata; I. C. chrysopepla (Image by KIB)
Contact:
Key Laboratory for Plant Diversity and Biogeography of East Asia, CAS
Kunming Institute of Botany
Prof. Dr. YANG Zhuliang
Email: fungi@mail.kib.ac.cn