Chlorella zofingiensis Donz, a unicellular microalga, is able to accumulate astaxanthin and lipids under certain environmental stresses or culture conditions. Astaxanthin, a common ketocarotenoid in aquatic animals, possesses strong antioxidant activity and has been shown to have many biological functions, and thus has been used as a nutritional supplement in foods, feeds, nutraceuticals and pharmaceuticals, with over $250 million market per year in the United States. Recent studies also showed that C. zofingiensis could be a feedstock for biodiesel. The underlining mechanisms of how this green alga to accumulate astaxanthin and lipids under stress conditions, especially upon the treatment of glucose, are largely unknown.
Prof. HUANG Junchao's team at the Kunming Institute of Botany, Chinese Academy of Sciences (CAS) studied the transcriptome and metabolites of C. zofingiensis under glucose and normal culture conditions in order to understand how stress induces C. zofingiensis to synthesize astaxanthin and lipids.
Transcriptome data revealed a great number of gene coding sequences involved in most primary and secondary metabolisms, including full coding sequences of all the genes for astaxanthin and TAG biosynthesis. The biosynthesis of IPP (isopentenyl diphosphate) by the MEP (methylerythritol 4-phosphate) pathway was found to be correlated to astaxanthin biosynthesis (Fig. 1). The enhanced astaxanthin synthesis induced by glucose was closely related to the up-regulation of astaxanthin pathway genes coupled with the repression of side pathway genes.
Most of the genes involved in fatty acid and TAG biosynthesis consist of more than one copy. Their global up-regulation triggered off the accumulation of fatty acids and TAG in C. zofingiensis (Fig. 2). In addition, glucose up-regulated DGAT2 (diacylglycerol acyltransferase 2) but down-regulated PDAT (phospholipid: diacylglycerol acyltransferase), suggesting that the acyl-CoA-dependent pathway attributed to the accumulation of TAG. Astaxanthin and TAG accumulations were found to be coordinated. The transcriptome datasets can serve as a valuable and informative platform for functional studies on carotenoids, lipids and other important metabolites.
This study has recently been published online in Algal Research http://www.sciencedirect.com/science/article/pii/S2211926416301710
This study was supported by a research grant (Y43E531261) from Yunnan Provincial Science and Technology Department.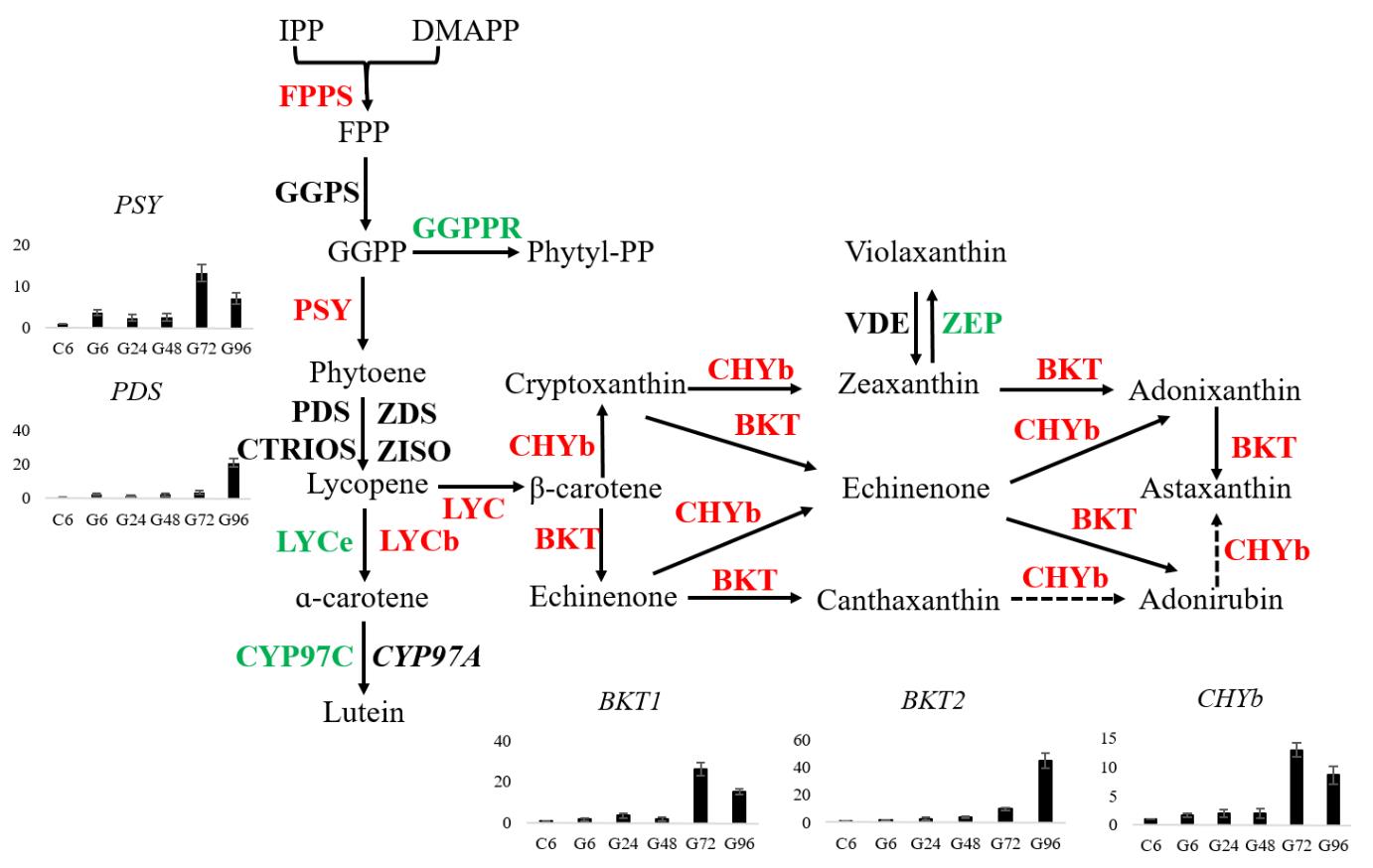 Fig. 1. Genes and their expressions involved in the biosynthetic pathway of astaxanthin in C. zofingiensis. Genes up-regulated by glucose were indicated in red, down-regulated in green, and no significant changes in black.
(Image by KIB)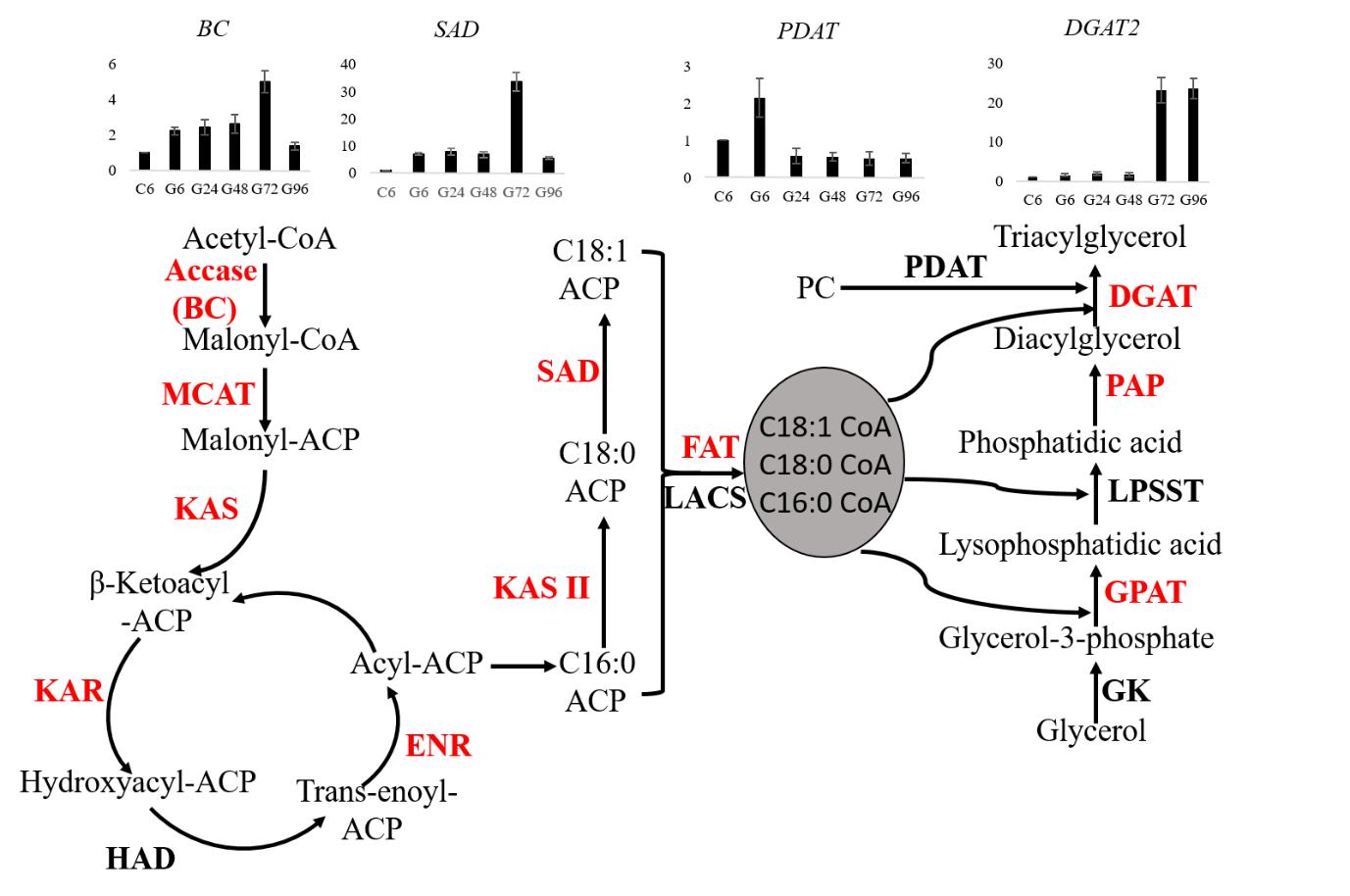 Fig. 2. Genes and their expressions involved in de novo fatty acid and TAG biosynthetic pathways of C. zofingiensis. Genes up-regulated by glucose were indicated in red, and no significant changes in black. (Image by KIB)
Contact:
Prof. HUANG Junchao or HUANG Weiping
Department of Economic Plants and Biotechnology
Yunnan Key Laboratory for Wild Plant Resources
Kunming Institute of Botany, Chinese Academy of Sciences
Email: huangjc@mail.kib.ac.cn