Some flowering plants bring pollinators into contact with reproductive structures by providing olfactory or visual signals, and by rewarding visitors with nectar, pollen, and oils. In turn, pollinator preference and abundance influence a plant's reproductive success.
Studies of floral characteristics have traditionally focused on visual signals assumed to be attractive to pollinators, including floral display size, flower color and shape, and nectar coloration. However, it is possible that plant scents are also important for helping to attract pollinators and to maximize reproductive output.
Recently, Dr. ZHANG Fengping from Prof. ZHANG Shibao' team,focused on ecological functions of volatiles of E. rugulosa, and explored the functional significance of volatile compounds that impart a strong odor to E. rugulosa, a shrub species in southwestern China. This study has focused on how plant scents can attract effective pollinators, repel ineffective pollinators, and defend against attacks by insect herbivores.
The study monitored the pollinating honey bee (Apis cerana), and other two occasional visitors hornets and bumble bees. Behavior experiments using Y-tubes showed that honey bees were attracted primarily by floral scent while hornets and bumble bees were repelled by both the flowers and leaves.
Analysis via gas chromatography-mass spectrometry revealed that these tissue types differed in their compositions and relative amounts of volatile compounds. When the plants were damaged, the average relative amounts of E. ketone rapidly increased in the flowers and leaves.
Furthermore, herbivorous beetles were strongly repelled by damaged tissues, suggesting a potential defense signalling function by these compounds. Research findings again demonstrate that scents have multiple functions in the interactions among plants and insects.
This study entitled "Multiple functions of volatiles in flowers and leaves of Elsholtzia rugulosa (Lamiaceae) from southwestern China" has been published online in Scientific Reports: http://www.nature.com/articles/srep27616
This work was supported by the Natural Science Foundation of China (No. 31300200).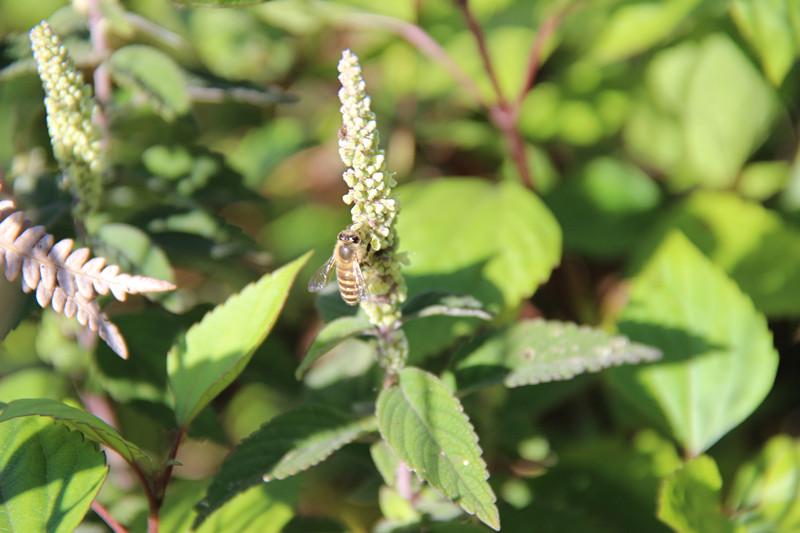 Fig. 1 Elsholtzia rugulosa (Image by KIB)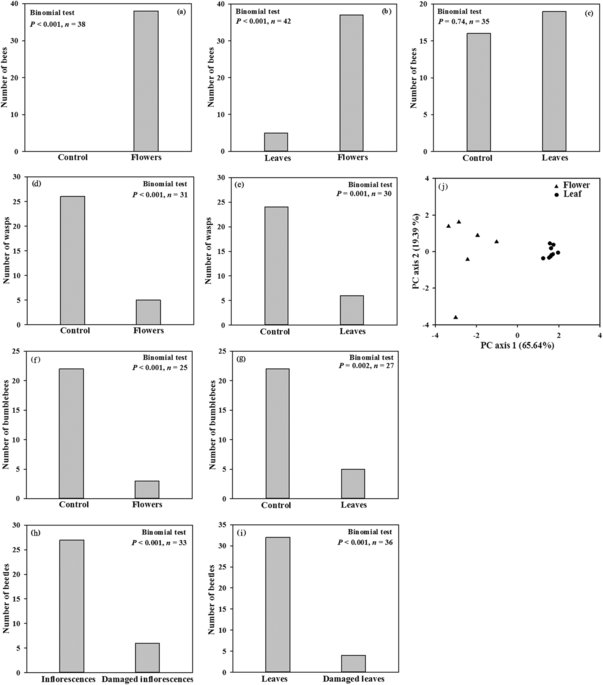 Fig.2 Number of Apis cerana honey bees choosing Y-tube branches containing Elsholtzia rugulosa flowers (a), amount visiting leaves relative to flowers (b) and leaves (c) versus preference for neither (control); Number of Vespa velutina hornets choosing Y-tube branches containing Elsholtzia rugulosa flowers (d) or leaves (e) versus preference for neither (control); Number of Bombus sp. bumblebees choosing Y-tube branches containing Elsholtzia rugulosa flowers (f) or leaves (g) versus preference for neither (control); Number of Oxycetonia jocunda beetles choosing Y-tube branches containing Elsholtzia rugulosa intact inflorescences versus damaged inflorescences (h) or intact leaves versus damaged leaves (i); Principal component (PC) analysis based on occurrence and relative amounts of volatile compounds emitted by Elsholtzia rugulosa flowers and leaves (j). ((Image by KIB)
Contact :
Prof. ZHANG Shibao
Email: sbzhang@mail.kib.ac.cn
Key Laboratory of Economic Plants and Biotechnology
Kunming Institute of Botany, Chinese Academy of Sciences
Kunming, 650201 Yunnan, China