China's insatiable appetite for rubber, to satisfy its rapidly growing car market, is pushing rubber plantations into higher elevations and onto steeper slopes where rubber cultivation is no longer profitable and poses a significant threat to biodiversity.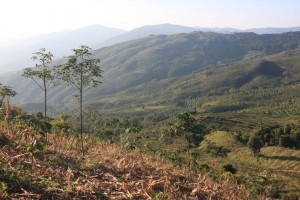 Rubber plantations in Xishuangbanna. (Image by: Dietrich Schmidt-Vogt)
In a new study published in PlosONE, scientists from the Kunming Institute of Botany,Chinese Academy of Sciences (KIB/CAS) and the World Agroforestry Centre (ICRAF) found that the area of monoculture rubber plantations in Xishuangbanna, the second largest rubber planting area in China, increased nearly five-fold between 1988 and 2010.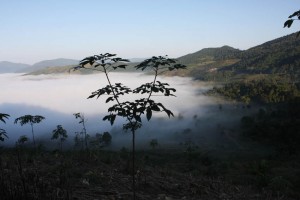 Rubber growing at high elevations in Xishuangbanna.(Image by: Dietrich Schmidt-Vogt)
The researchers call for more sustainable rubber cultivation, such as intercropping rubber with timber trees and medicinal plants in agroforestry systems. There is an urgent need, they say, for local governments to develop long-term land use strategies that balance economic benefits and environmental sustainability.
The study reveals how rubber plantations are rapidly expanding into marginally suitable areas at higher elevations and on steeper slopes, where productivity and economic value declines. By 2010, almost 30 per cent of plantations were located above 900 metres above sea-level (masl) and two-thirds of plantations are now on slopes of more than 15 degrees.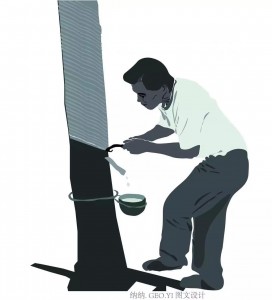 Illustration by YI Zhuang-Fang showing a farmer tapping rubber
The study entitled: "Pushing the Limits: The Pattern and Dynamics of Rubber Monoculture Expansion in Xishuangbanna, SW China" has been published on PlosONE http://journals.plos.org/plosone/article?id=10.1371/journal.pone.0150062#authcontrib
This research was funded by the German Federal Ministry for Economic Cooperation and Development (BMZ) and Deutsche Gesellschaft für Internationale Zusammenarbeit (GIZ)
Contact:
Mrs, CHEN Huafang
Email: jxu@mail.kib.ac.cn
Tel: +86 871 6522 3599
Key Laboratory of Economic Plants and Biotechnology
Kunming Institute of Botany, Chinese Academy of Sciences