Chinese scientist discovered new bioactive chemical compositions from coffee. In recent years, Yunnan became one of cultivation base of Coffea arabica in the world. Coffee Plantation in Yunnan accounted for 99% of China.
Prof. QIU Minghua's team from Kunming Institute of Botany, Chinese Academy of Sciences (KIB/CAS) have made a large number of analysis on conventional chemical compositions of coffee Arabica. The study discovered 35 new bioactive chemical compositions from Yunnan Arabica Coffee, which chemical structures of new compounds were main diterpenoids and tryptamine alkaloids.
The studies confirmed that partial tryptamine alkaloids showed obvious bioactive of AChE (acetycholinesterase) inhibition, which indicated that these alkaloids are potential effect compositions for preventing alzheimer's disease and protect central nervous system. Base on the complexity and diversity of coffee chemical compositions; bioactive and characteristic inone coffee species, QIU's team suggested that Coffee is a model species of network pharmacology in functional plants, or key species in economic botanical taxa which plays an important role in mankind's daily life.
The study suggested, It is a new strategy for connected complex coffee chemical compositions and their various bioactive with network pharmacology, and fully utilization of coffee chemical resources.
This research progress been delivered by Prof. QIU during the 26th International Conference on Coffee Science hosted by ASIC (Association for Science and Information on Coffee). For more information about this meeting please visit: http://www.asic2016china.org/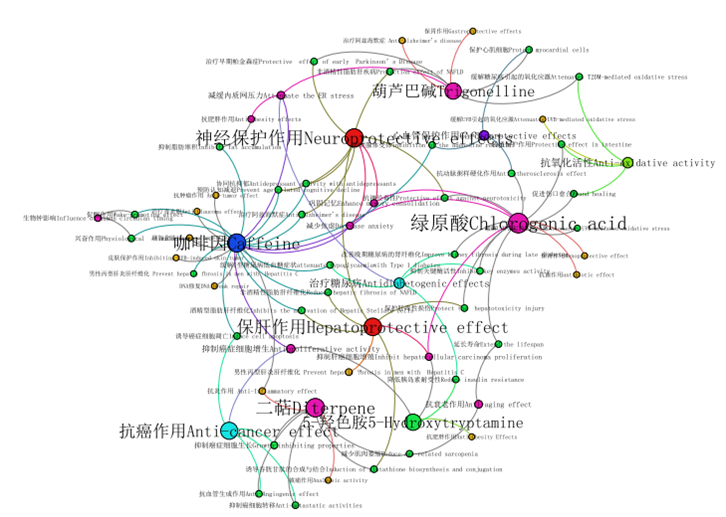 All in one species (Image by KIB)
Contact:
State Key Laboratory of Phytochemistry and Plant Resources in West China
Kunming Institute of Botany, Chinese Academy of Sciences
Prof. Dr. QIU Minghua
E-mail: mhchiu@mail.kib.ac.cn or qiuminghua@mail.kib.ac.cn