The late Miocene is a sub-epoch when hominoids became rare worldwide but managed to survive in a few refugia. Investigating the living conditions of the late Miocene hominoids is therefore crucial for a better understanding of how they survived in those refugia.
Recently, palaeobotanical and archeological researchers, including Dr. HUANG Yongjiang and Prof. ZHOU Zhekun from Kunming Institute of Botany, Chinese Academy of Sciences (KIB/CAS), Prof. JI Xueping from Yunnan Institute of Cultural Relics and Archaeology, and other colleagues, collaboratively conducted a research regarding the habitat, climate and possible plant food resources for the Shuitangba hominoid (Lufengpithecus cf. lufengensis) from the late Miocene Zhaotong Basin, Southwest China, based on relevant palaeobotanical evidence.
The team collected and recognized carpological remains of 14 plant taxa newly recovered from the Zhaotong Basin. These new plant taxa expand our knowledge of the flora and indicate how diverse the ecosystem in the late Miocene Zhaotong Basin was.
Based on carpological taxa, this research hypothesized that the Shuitangba hominoid lived in a stratified mixed forest composed of trees, shrubs, lianas, herbs and grasses, near a lake occupied by various aquatic plants. The team also quantitatively reconstructed the palaeoclimate of the fossil site using the Coexistence Approach (CoA), which indicates that the late Miocene Zhaotong Basin had a mean annual temperature (MAT) of 11.3–17.6 °C and a mean annual precipitation (MAP) of 1042–1547 mm, suggesting a mildly warm and humid climate for the Shuitangba hominoid. The palaeoclimate estimate also indicates that the hominoid had warm and wet summers but cool and dry winters, under the influence of the Asian monsoon.
Moreover, edible and nutritious fruits and seeds of a considerable size, e.g., nuts of Carya and Corylus, fruits of Euryale and Trapa, were possibly exploited by the Shuitangba hominoid. The harder fruits, e.g., nuts of Carya and Corylus, might have benefited the hominoid as a fallback resource in the winter when foods were scarce.
Related results of the study were published online in Palaeogeoraphy, Palaeoclimatology, Palaeoecology entitled: Habitat, climate and potential plant food resources for the late Miocene Shuitangba hominoid in Southwest China: Insights from carpological remains
This study was supported by the Major Program of National Natural Science Foundation of China (NSFC), the Natural Science Foundation of Yunnan Province, and the National Key Basic Research Program of China.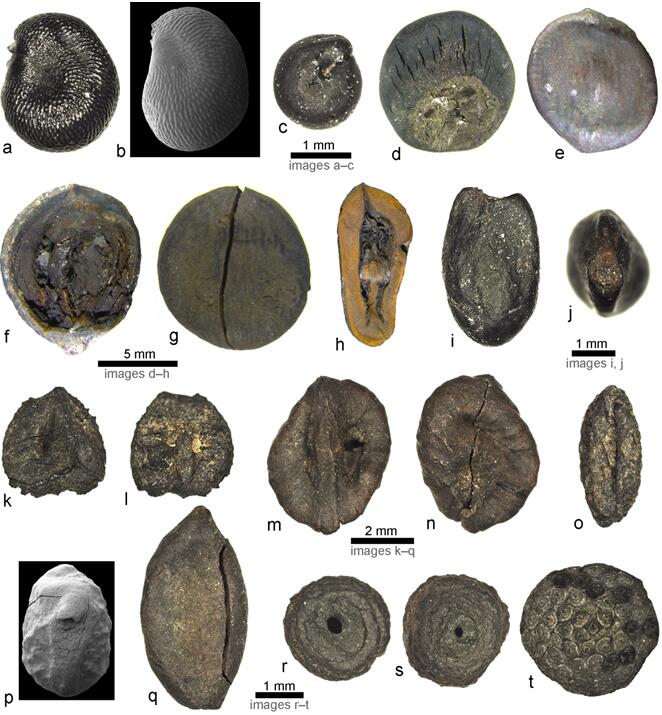 Fig. 2. Fruits and seeds of terrestrial plant taxa from the late Miocene Zhaotong Basin. a, b. Seeds of Cucubalus prebaccifer Huang, Liu et Zhou; c. Seed of Chenopodium album L.; d. Hazel nut (Corylus sp.); e–h. Hickory nuts (Carya sp.); i, j. Seed of Staphylea forrestii Balf.f., showing the general shape and hilar scar, respectively; k, l. Seed of Cayratia sp., showing the ventral and dorsal faces, respectively; m, n. Seed of Ampelopsis sp., showing the ventral and dorsal faces, respectively; o. Drupe of Ligustrum sp.; p. Seed of Zanthoxylum trachyspermum H. Zhu et Z.K. Zhou formerly described; q–t. Other unidentified fossil remains (Image by KIB).
Contact:
Key Laboratory for Plant Biodiversity and Biogeography of East Asia,
Kunming Institute of Botany, Chinese Academy of Sciences
Dr. HUANG Yongjiang