Paleotropical woody bamboos (PWB) belongs to the tribe Bambuseae (Poaceae: Bambusoideae), consists of 48 genera and ca. 407 species with a wide distribution in tropical and subtropical areas of Asia, Africa and Oceania. They are rich in species and diverse in morphology: Some genera are climbing or twining in the tropical forests, such as Dinochloa and Melocalamus, others bear pear-like fruits such as Melocanna.
The PWB includes the largest members of the grass family, such as Dendrocalamus sinicus and D. giganteus, up to 30 meters high and 30 cm in diameter. Many species of the PWB are of high economic value, such as Dendrocalamus latiflorus, D. giganteus, Bambusa oldhamii, B. textilis and B. emeiensis.
The most updated tribal and subtribal classification of bamboos recognizes four subtribes in the PWB: Bambusinae, Melocanninae, Racemobambosinae and Hickeliinae. Previous phylogenetic studies have been conducted for parts of the PWBs based on several DNA regions. However, most relationships among the PWBs, even at the subtribal level, are still ambiguous because of deficient sampling of taxa and/or DNA regions.
Recently, Prof. LI Dezhu's research group from Kunming Institute of Botany, Chinese Academy of Sciences (KIB/CAS) provided an overall understanding of phylogenetic relationships among the PWBs by using a large sample of taxa and 18 plastid regions to generate a plastid phylogeny (Fig. 1).
The 18-region phylogeny confirmed Melocanninae as the earliest diverging lineage from the rest of the PWB. Neohouzeaua coradata is not a member of the subtribe Melocanninae and should be transferred into Melocalamus of the subtribe Bambusinae. The Hickeliinae clade only consisted of Malagasy species of the subtribe Hickeliinae. Nastus was polyphyletic. Malagasy species of Nastus were grouped within the Hickeliinae clade whereas Malesian 'Nastus' had closer relationships with other PWB species in Malesia.
Bambusinae was phylogenetically heterogeneous and consisted of the Dinochloa-Greslania-Mullerochloa-Neololeba-Sphaeroambos (DGMNS) assemblage, Temburongia simplex, and the core Bambusinae. The core Bambusinae may be redefined to include the basal grade and the Bambusa-Dendrocalamus-Gigantochloa (BDG) complex which is of great economic value, extremely diverse in morphology and is phylogenetically intractable (Fig. 2).
The six major lineages of the PWB revealed by plastid phylogeny showed a clear geographical distribution pattern (Fig. 1).
This study is important for understanding phylogeny and biogeography of the PWB, and is also fundamental for in-depth studies of the PWB in genetics and genomics.
This study entitled "Towards a complete generic-level plastid phylogeny of the paleotropical woody bamboos (Poaceae:Bambusoideae)" has been published in Taxon (https://doi.org/10.12705/663.2).
In addition, during the field exhibition to Hainan, South China, the group members collected a new species of Holttumochloa, H. hainanensis M.Y. Zhou & D.Z. Li, sp. nov. (Fig. 3). Holttumochloa has previously only been recorded from the Malay Peninsula. Molecular phylogeny based on the nuclear GBSSI gene and morphological studies corroborated the identification of the new species and its affinity.
The discovery of H. hainanensis is biogeographically significant because that it not only added a new genus for the Chinese flora, but also illuminated the affinity between tropical floras of the Island of Hainan and the Malay Peninsula at the species or sister-species level.
This study entitled "Distribution of Holttumochloa (Poaceae: Bambusoideae) in China with description of a new species revealed by morphological and molecular evidence" has been published in Plant Diversity (http://dx.doi.org/10.1016/j.pld.2017.05.001).
These studies were funded by the National Nature Science Foundation of China (grants 31430011, 31670396 and U1136603).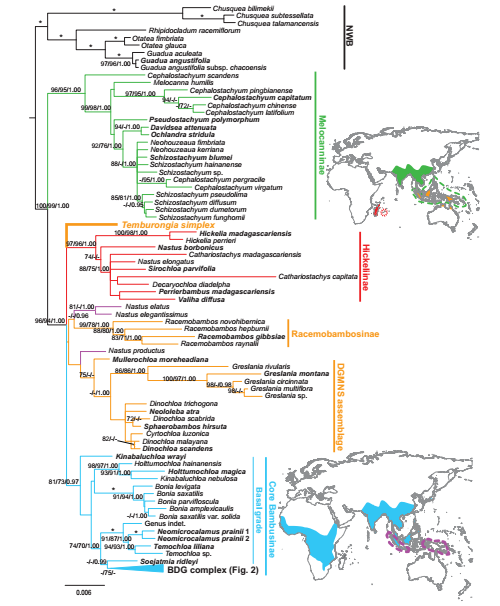 Fig. 1 BI tree based on the combined plastid dataset of 18 regions. (Image by ZHOU Mengyuan)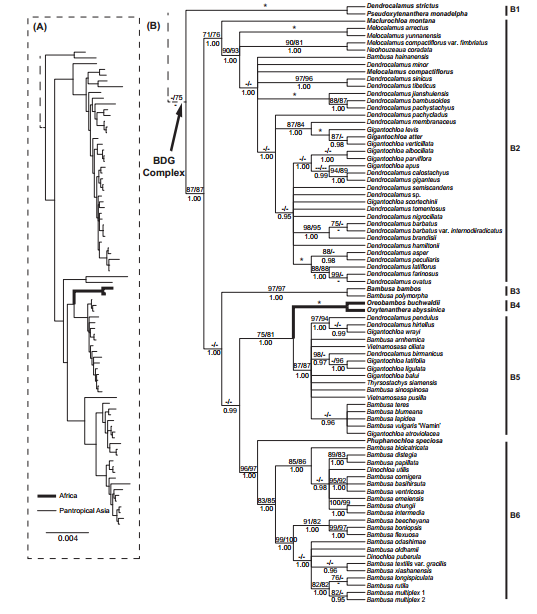 Fig. 2 BI tree of the BDG complex. (Image by ZHOU Mengyuan)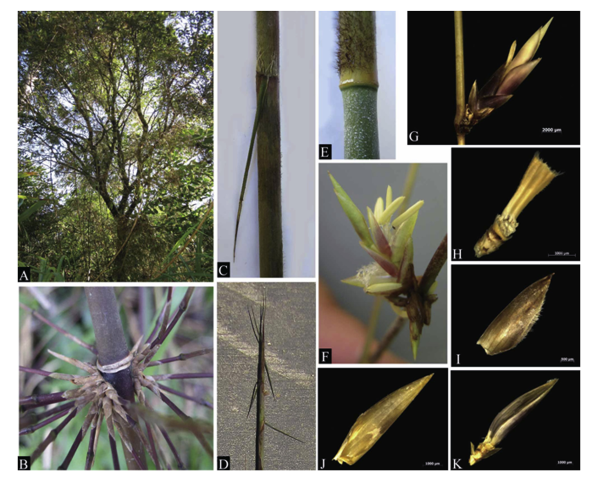 Fig. 3 Holttumochloa hainanensis sp. nov. (Image by ZHOU Mengyuan & LIANG Yiwen).
Contact:
Germplasm Bank of Wild Species
Kunming Institute of Botany, Chinese Academy of Sciences
Prof. LI De-Zhu
Email: dzl@mail.kib.ac.cn