Due to complicated pattern of compositional affinities within floral biotas, traditional methods may be challenging for defining floristic units, especially focusing on the smaller floristic sub regions.
Over the years, with the development of big databases including environment, geography and biodiversity, the integration of multidisciplinary based on the traditional classification clustering, biogeography and genomics has been used in the floristic regionalization that floristic division schemes have turned from superficially qualitative description to explicitly quantitative division.
Considering this, Prof. SUN Hang's Group from Kunming Institute of Botany, Chinese Academy of Sciences (KIB/CAS), proposed a new concept of "Phylogeographic regionalization", which used the phylogeographic data to identify particularly evolutionarily distinct floras and named it as "phylogeoregions".
Based on a series of analyses, tests for phylogeographic structure, distribution pattern of private haplotype and environmental evidence to accurately regionalize in Qinghai-Tibet Plateau (QTP)-Hengduan Mountains (HDM) region.
The results provided complementary and valuable evidence for previous regionalization, thye suggested that three-river gorges (IIIE14a) was a natural phylogeographic boundary as is unsuitable for separate subregion supported by previous phylogeographic results.
Moreover, the Jinsha River may mark an important phylogeographic boundary.
The research also tentatively suggests that the boundary of the putative NHDM and SHDM (IIIE14b; IIIE14c) subregions be placed at approximately 29。N latitude.
This new concept of 'phylogeographic regionalization' and 'phylogeoregions' have promoted the quantification and refinement of floristic divisions.
The research inherited the academic thoughts of Prof. Wu. Integrating of multiflora, used method of Phylogeographic regionalization, to deeply explore floristic regionalization in China. It is important to comprehensively understand floristic biotas and conservation of plant diversity in China.
The research results have been published in Frontiers in Genetics entitled: "Phylogeography of Parasyncalathium souliei (Asteraceae) and Its Potential Application in Delimiting Phylogeoregions in the Qinghai-Tibet Plateau (QTP)-Hengduan Mountains (HDM) Hotspot".
This study was supported by grants-in-aid from the Strategic Priority Research Program of Chinese Academy of Sciences (XDA20050203 to HS), the Major Program of the National Natural Science Foundation of China (31590823 to HS), the National Natural Science Foundation of China (NSFC, 31000101, 31370004 and 31570213 to JZ), the National Key R&D Program of China (2017YFC0505200 to HS), the International Program of Chinese Academy of Science (151853KYSB2016021 to HS).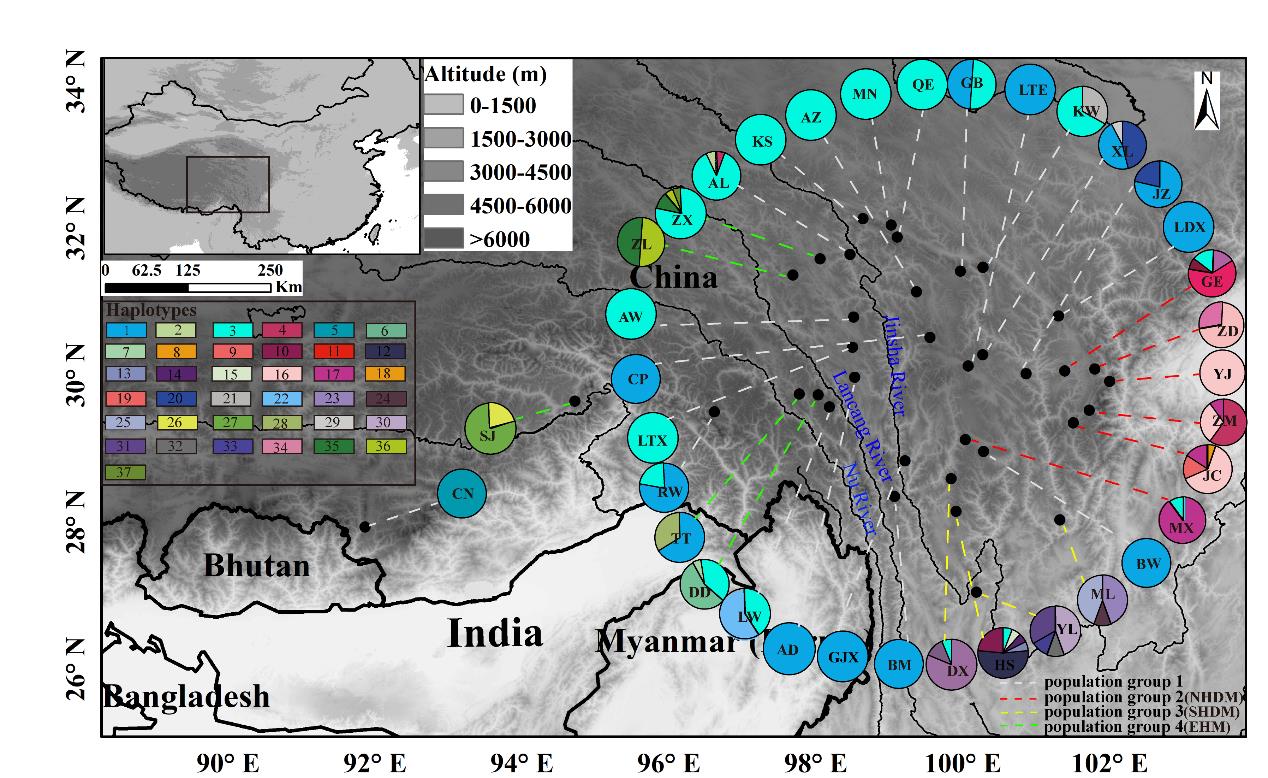 Fig. 1 The distribution of 37 cpDNA haplotypes and the four population groups identified within 36 populations of Parasyncalathium souliei (Image by KIB)
Contact:
YANG Mei
General Office
Kunming Institute of Botany, CAS
Email: yangmei@mail.kib.ac.cn
(Editor: YANG Mei)